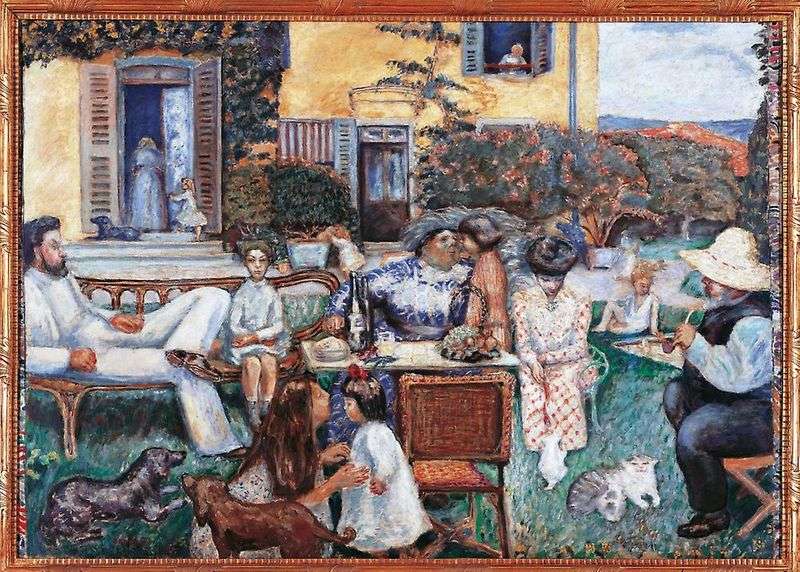 In this work, Bonnard does not yet have those bright, flickering colors that are characteristic of a later period of his work. Nevertheless, "Family on the terrace" is a very Bonnarian thing. The artist here expressed himself, first of all, in the choice of the plot. Calm family life, children, cats and dogs, a small garden – all this is sealed Bonnard with extraordinary love.
Inspirational memory Painting Bonnard, wiped off the background of European fine art of the twentieth century, "bison" avant-garde, is almost not familiar to the general public. Picasso, Matisse, Dali –
these are the idols of the past century. Bonnard on their background seems faded, secondary, "irrelevant." And, nevertheless, the artist always had his own audience.
Spectators tired of the scorching heat of modern painting, from endless "new words", breakthroughs and tears. For them, yearning for a simple and beautiful, Bonnard was like an oasis in a red-hot desert. In this oasis grew green trees and bright flowers, streamed streams, in which splashed sunlight, smiling young women, and all the windows went out into the garden. What kind of trouble, if, perhaps, "this was not"? All the same it was. The handicap is the memory of the artist, his paints, brushes and canvas.