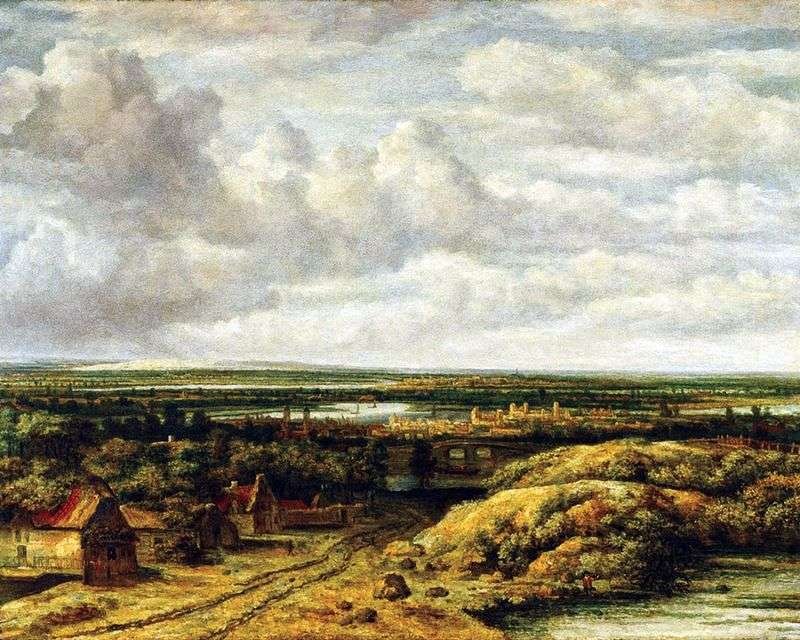 Phillips Konink belonged to a circle of friends of Rembrandt. The work of the outstanding master had a great influence on the formation of the artist. He wrote genre, mythological paintings, portraits, but the greatest glory he brought landscapes. Endless Dutch plains, lost valleys among them, traversing their roads and rivers, observed from a high hill by an artist, remained etched in his paintings.
The flowering of Konink's creativity falls on the middle of the 1650's – the middle of the 1660's, when he, having developed techniques for the promising construction of the composition, created his panoramic landscape, the best examples of which correlate with the works of Rembrandt.
The artist was born in Amsterdam in the family of goldsmiths, studied with his brother in Rotterdam, and from 1641 he settled in Amsterdam and became the owner of the ships of the Amsterdam line. Other famous works: "View of Gelderland". The Pushkin Museum. A. S. Pushkin, Moscow; "View of the river Baal near Beck." 1654. National Museum, Copenhagen; "Seamstress". 1671. The Hermitage, St. Petersburg.