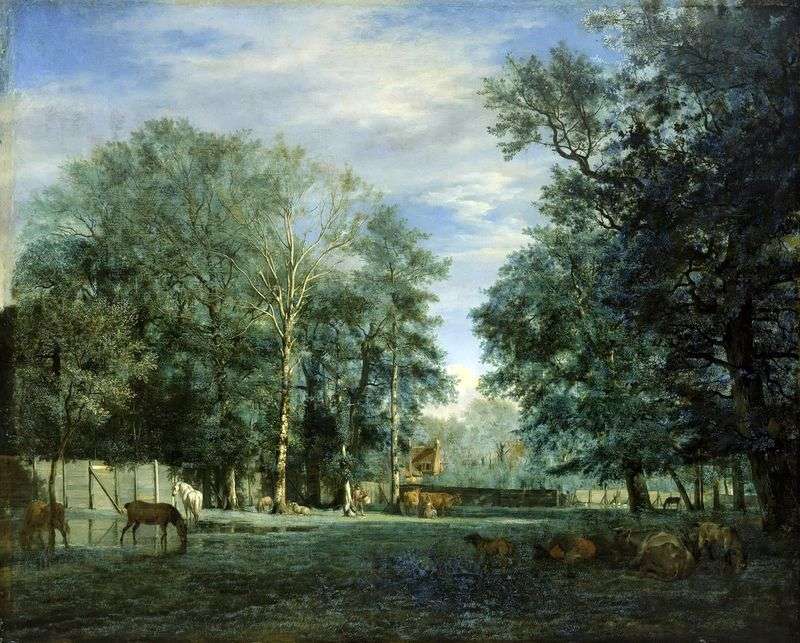 In the history of art Adrian van de Velde entered as a bright representative of the Dutch painting of the XVII century. Creativity of the artist was distinguished by universalism. He worked as an eater, painted landscapes, portraits, paintings on mythological and religious themes, often wrote figures in the compositions of other Dutch masters.
However, A. Van de Velde gained fame primarily as a landscape painter. The artist was born in the family of a Dutch landscape painter, seascape V. van de Velde the Elder, and received his father's first lessons in painting. In his work he experienced the influence
of F. Wauwerman, but in his works more naturalness and simplicity, free democratism of images.
The freshness and brightness of color solutions are also characteristic of his painting. At the same time the landscapes of the artist are distinguished by exquisite elegance, embellishment of the depicted, giving them a kind of idyllic character. Such are his paintings "Farm", "Cows in the pasture", "Landscape with a herd of cows."
Romanticism filled the seascapes of A. van de Velde. Among them one of the most famous works of the artist is "The Seaside in Scheveningen". Other famous works: "Allegory." 1663. The Pushkin Museum. A. S. Pushkin, Moscow; "Hunting". The Pushkin Museum. A. S. Pushkin, Moscow.