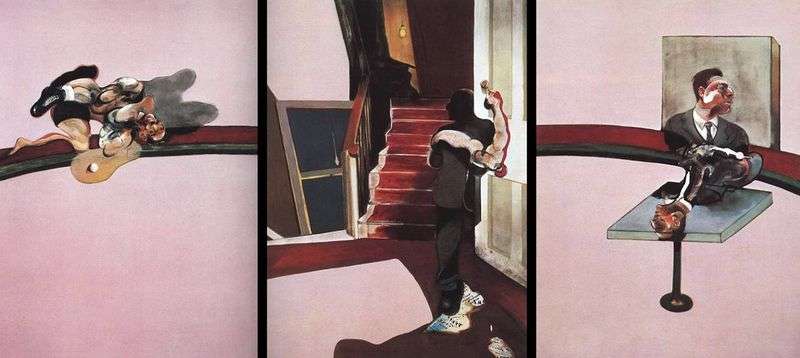 Many important events in the life of Francis Bacon occur in the 1960s; Bacon was showered with many awards and honors. In 1968 – the first trip to New York, "Triptych on the theme of the poem by Thomas Eliot", 1967. In 1971 – a retrospective at the Grand Palace, in Paris: over 100 paintings and 11 triptychs.
In the same year, in connection with the death of Georges Dyer, Francis Bacon wrote a triptych "In Memory of Georges Dyer". This is a tribute to a close friend and beloved artist. Triptych is not written in such a rigid manner of abstractionism, it is lyrical. A warm yellow lamp, red stairs rise up.
The familiar door, the bell button – here it was always waiting. On the right side of the triptych is the image of a lonely man sitting by the window. As a memory of a bygone friend, of the inextricability of their friendship – a reflection in the glass of a small table. Portraits and allegories for the death of Georges Dyer are given enough space in the artist's work.