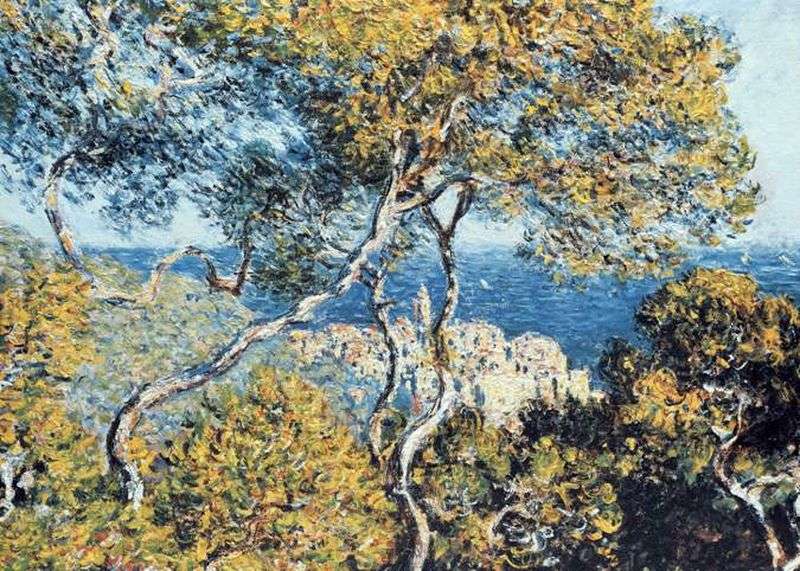 The artist was so fascinated by this place that depicted her on all sides in a short time. There are several paintings devoted to this place and they are made from virtually the same point of the area, but as if from different perspectives.
The artist was just fascinated by the harmony of nature and sharp color gamut. This is where the really Monet showed his delight beauty. See how many shades of summer. Here and bright blue sea, and light brown houses of the city and of course the vegetation in the foreground – from dark green to light green with a consistently dark brown wood. But interestingly, the sky is thus lost its blue and some
pale blue, even more grayish.
Impressionism – a style that promoted Monet, one of the most prominent styles in painting. And probably one of the most reliable. Artists often use these things minute point in life, to portray him on the canvas. "What I see and what I write" – is the motto of Impressionist paintings and wrote, not by deceiving, frankly, honestly, with the fullness of color and light.
Here and there on the canvas all honestly, everything is realistic and everything is correct. And most importantly extraordinarily beautiful. The nature of the Mediterranean has always been great. It differs from the rest of the European nature of the fact that Tropical bright. Even in the autumn and winter periods in the land remain bright summer colors in the form of evergreen plants. Now this area is a favorite area artists. There are those who are trying to repeat the experience of Monet, but the fact that it was given to the artist, it is clearly not given a simple painter. Imitation is never beneficial.
Monet painted a bright and motley neighborhood of the city, and therefore brought him a certain amount of fame. Now in this town seeking tourists, because in fact there was a great Monet and besides, he's worked on his masterpieces.