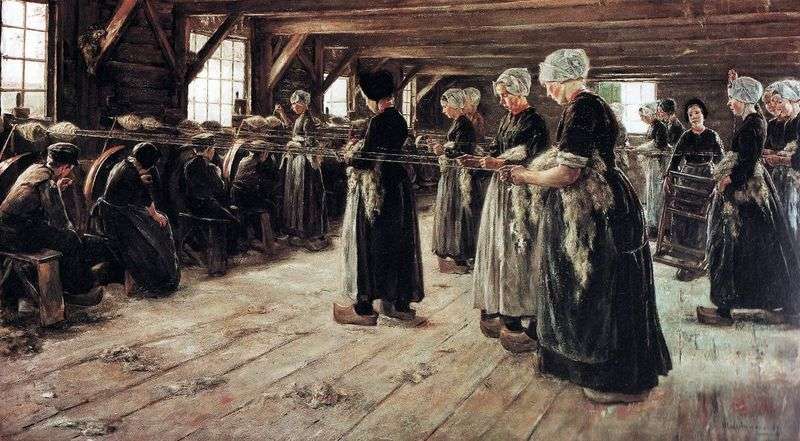 Lieberman always showed a genuine interest in the working life of ordinary people. This topic will be the main in his work, and related subjects with the most common. Representing people working, Lieberman wanted to show their endless heroic patience.
It must be said that the artist played a significant role in the development of German painting precisely because it brought into it the influence of the leading trends in foreign art – naturalism and impressionism, which was an ardent admirer. All his early works are marked by a rather gloomy color and a shockingly realistic manner of writing.
One
of the first genre paintings of "Women plucking geese", presented at the Hamburg art exhibition, was received by the audience with undisguised disgust. Critics, though praised Lieberman for the mastery of technology, but at the same time awarded the title of an artist who paints entirely ugliness. He was even called the Ugly Apostle.
The charges were certainly unfair. The artist simply depicted scenes where people were at work. He drew his heroes without excessive sentimentality and derogatory pity. His paintings, although devoid of romance, do not contain sharp social criticism or disclosure. He tried to convey the natural dignity of the working man and to prove that even ordinary hard work can be a subject of admiration and does not need excessive embellishment.
The basis for writing the "Flaxeners" was the scene seen by the artist in 1886 in the village hut of the Dutch village of Laren. Raw flax women received flax fibers. The work was hard and dusty. During the day, the wall and windows were covered with gray linen dust. To protect themselves from her, women tightly tied head scarves. Here he made preliminary sketches and sketches, as well as the first version of the oil painting. The finished canvas appeared already in the Berlin studio.
Exhibited in the Paris Salon in 1887, the picture was met by the public very restrained. Nevertheless, critics gave her a decent assessment, as, indeed, and all the work of Lieberman: German painter Adolph von Menzel called him an artist who paints real people, not models.