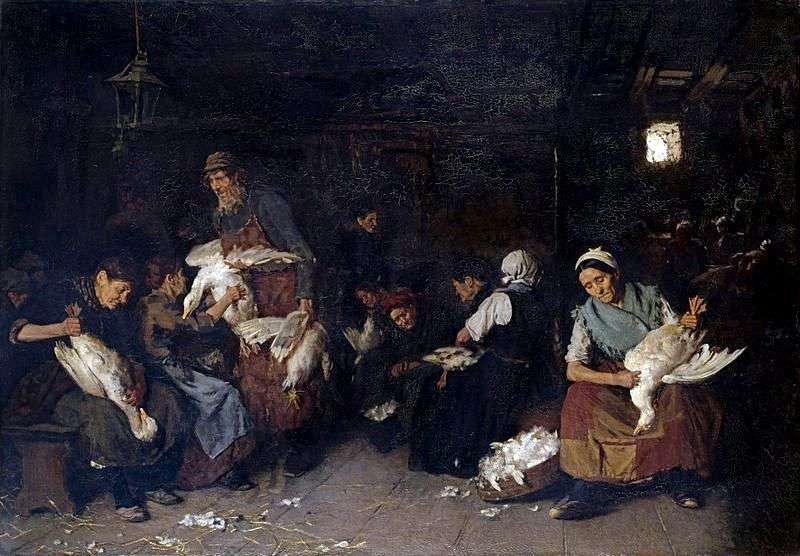 The very first large-scale work of the German artist with Jewish roots, Max Lieberman. The canvas caused an ambiguous reaction: the teacher Lieberman told his student that he had nothing more to teach him, the audience trembled with disgust, looking at such a painstakingly written hard-hitting work, critics praised the technique, and the public rewarded the cliché: Lieberman is an artist who paints a deformity. Despite all the indignation of his contemporaries, very soon the canvas was sold for a very decent amount.
What attracts the viewer in this picture, what wonder admirers of Max Lieberman find in his art of this period? The plot's realism is impressive – the master illustrates the ordinary work of plucking geese with all realism, without romanticizing this process, not stooping to pity or sentimentality, finding in these simple plots his aesthetics and dignity.
On the canvas, we see people in the twilight of the working room, habitually spending time on their work: their movements are slow, brought to automatism, their faces are calm, and even boring. The work is executed in dark colors, the technique of performance is very clearly readable, peculiar to historical painting, naturalism.
This work was written in the early period of the artist – before his trip to France was still far away. But already in this work of a master, destined to become the most important representative of impressionism of non-French origin, rebellion and innovation are being read – he wanted to write honestly and freely.