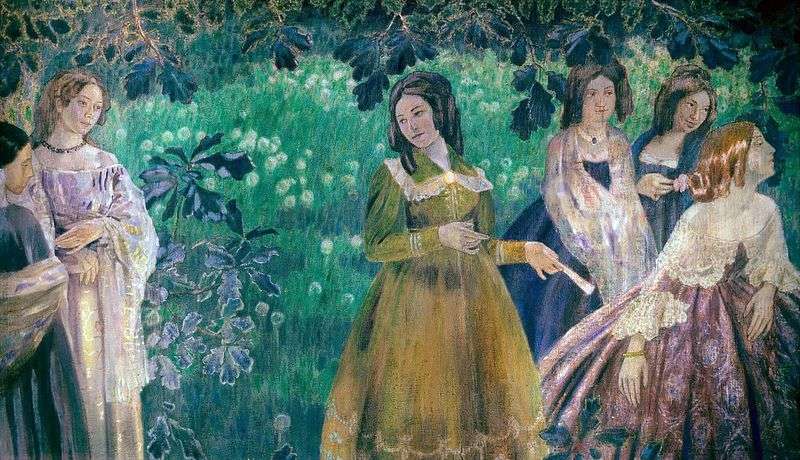 The picture creates an image of great color sonority and decorative beauty. Young women are depicted in a green grove. The artist himself called the "Necklace" a "pagan picture." Her characters are like a spring, full of energy to nature, the flowers turning heads to the sun. The picture is inspired by the image of May nature, the time of flowering of herbs. "… The late spring," said Borisov-Musatov, "fills my whole mind with bulging vivid images of realism." Permeating the picture sensualist beginning distinguishes the "Emerald Necklace" from other works of the artist. Nature and man are merged in this general breath.
"Emerald Necklace" fully can already be perceived as a monumental frieze, able to organically fit into the architecture and connect with it. The first sketches for the painting were made in the town of Cheremshany near Khvalynsky, where the Musatovs spent the summer. Their house stood in a garden surrounded by oaks. The artist was attracted by the pattern of oak leaves. As Stanyukovich recalled, "Victor Elpidiforovich was working hard at the time over garlands to his Emerald Necklace, standing in his workshop, converted from a barn, every day he went to oak trees that lay not far away, and, crouched in verdure, verified his observations above the game of light in the leaves. "
But the open-air tasks that the master solved in sketches of figures are synthesized in the picture. The color is condensed, it covers large surfaces, generalizes forms, becomes frankly decorative. And never the color gamut of the artist was not so intense. Indeed, the shades of the emerald dominate the landscape background. Here, as in the "Pond", there is no horizon, but if there still reflected the space in the surface of the water, then in the "Emerald Necklace" a green lawn with dandelions ornamentally fringed with oak leaves is the background, rather than a spatial environment, parallel to the figures and the plane of the canvas. And six female figures, with the seeming statics of the poses of some of them, still move from left to right.
For the first time Borisov-Musatov has a multi-figure, the characters are represented in the movement. The whole picture is permeated by a single undulating rhythm. Obeying him, the leaves of oaks and heads of white dandelions on the grass fit into the appropriate pattern, the figures on the plane of the canvas are located, the hands and heads of women move. Here, too, as in "Walking at sunset," there is a pause that separates the two left figures from the group on the right. But the distance is overcome by the central figure in an ohrist dress, turning the head and gesturing with a fan inviting two girls to follow her and her friends. The strip of dandelions on a green background and the oak branches sloping to the right also create a connection between the left and right figures. The procession, like a flowing melody, moves smoothly, and is difficult to develop, iridescent,