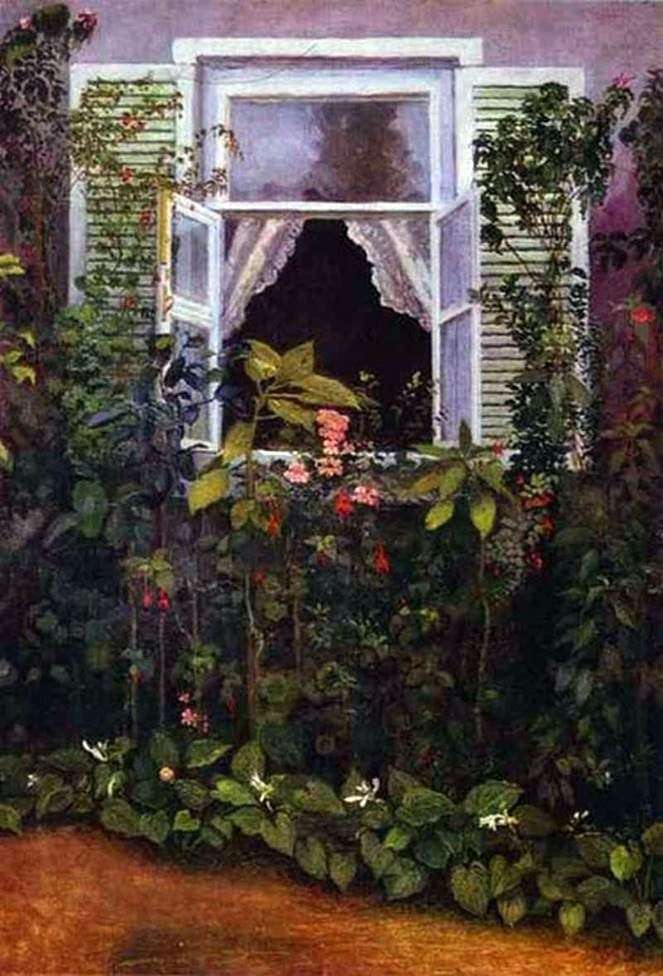 "In the sketch, a window of a small wing was opened where the Musatov family lived in Saratov. The artist in detail and accurately reproduces everything that the eye sees on the canvas – small blinds of shutters, white painted frames, cleanly washed glass with the sky reflected in them, branches and leaves of plants.
In the work of the 16-year-old Musatov, there is still no artistic interpretation of what he saw, this is still a conscientious, touching in its naive simplicity, fixation of the surrounding world. "And what does it mean to comprehend what he saw? The artist is a philosopher who speaks the language of painting.
Before us is the case of artistic thinking without any discounts on age. Window is the eye of the house. Outside, the house is twined with clothes of curly and ornamental plants with white, red, pink flowers. The higher, the lighter, the clearer the veil of greenery, and now the gray-yellow wall is visible. Which is higher? What is the house on the right and left? Never mind!
Here shutters open, white windows open, light curtains open and now the soul of the house will appear before us, because the window is like a man's eye, the mirror of his soul. What will this soul reveal: a servant, a child's head, a woman's face, a stern husband or the inside of a home? The dark, heavy, gloomy soul of the occupant of the house. The soul of the artist himself, offended by fate?