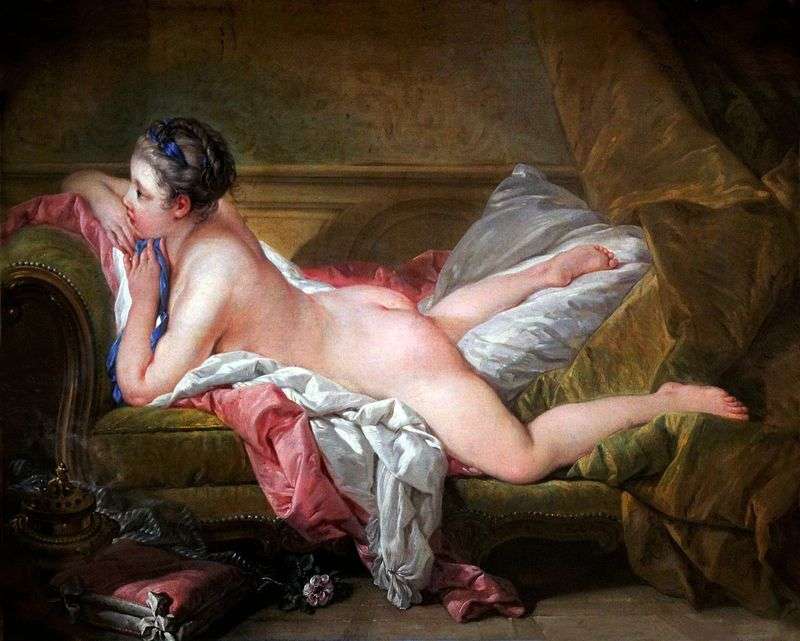 Denis Diderot, the most violent critic of Boucher, repeatedly attacked the master for being too fond of "writing girls." "And what are these girls?" Says Diderot, "graceful representatives of the half-light." Indeed, Boucher did not think much about the "moral" side of his work. And he wrote nude women, not only in the form of goddesses and nymphs, but quite often depicted quite earthly odalasks.
For example, in this picture he creates a frankly sensual image. A young girl, almost a teenager, lies, stretched out, on the sofa. Boucher surrounds the young beauty
with the most refined luxury. Soft pillows, draperies, incense censer – all this creates an atmosphere of sensual bliss. The viewer, meanwhile, immediately realizes that the heroine of the canvas has got into such a situation quite recently and has not yet had time to get used to it. And this "freshness" was supposed to give the girl even greater charm in the eyes of "depraved aristocrats" of the XVIII century.
It is assumed that for this picture, Boucher posed Louise O'Murphy, the daughter of an Irish shoemaker. At fourteen, the girl began to work as a model, and soon attracted the attention of Louis XV, and he made her one of his mistresses. Did not remain indifferent to the delights of Louise and the famous Casanova, who called her "white lily, the most beautiful of all earthly creatures." In conclusion, we note that the painting "Reclining Girl" enjoyed great success – Boucher even had to write a few copies from her.