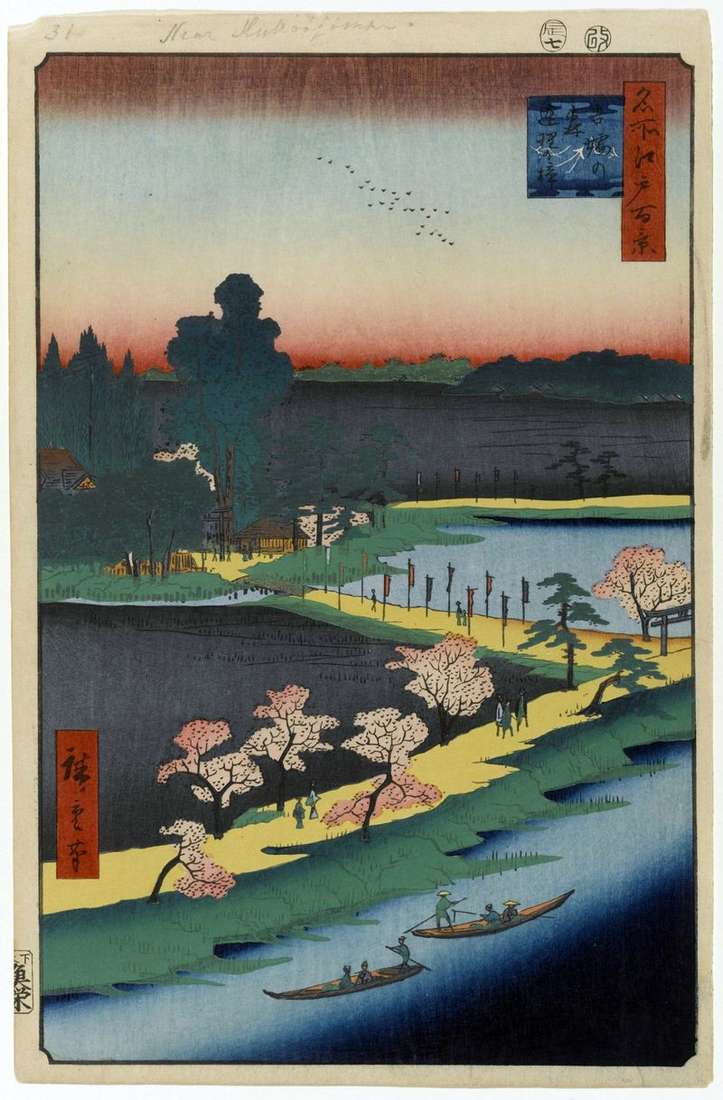 In the Hiroshige engraving, the viewer can see the road along the Dzikkengava Canal, leading to the Shinto Sanctuary of Azuma-no Mori, in front of which there are the stone gate of the Thorium. Rosa Azuma was on the north bank of the Kitajikkengawa River to the south of Camaydo Umeasika, a plum orchard. The sanctuary was dedicated to the deity Ototatibanahime-no myco-the wife of Prince Yamato Takeru no mythological mythological hero, conqueror of the eastern territories of the island of Honshu.
On the territory of the temple grew a camphor tree Renry-no kusu, the trunk of which bifurcated at an altitude of 1.2 meters. It is shown in the center of the sheet. The legend of the military campaign of Takheru no Mikoto is associated with it. When he reached the province of Sagami, he was going to cross the Bay of Edo by boat, but a storm broke out, and in order to propitiate the elements, Ototatibanahime sacrificed herself by rushing into the waves. Her kimono was nailed to the banks of the grove of Azuma. In memory of this event near the shore was poured a mound. Yamato Takeru stuck two camphor wood sticks into it, and they sprouted. This tree was sacred and was considered the abode of the deity.
In addition to the changes in some details of this engraving, in the subsequent edition color accents were introduced. There was a darkening of the right lower corner, the color of the soil of the fields changed. He became dark gray. The square cartouche is dark blue.