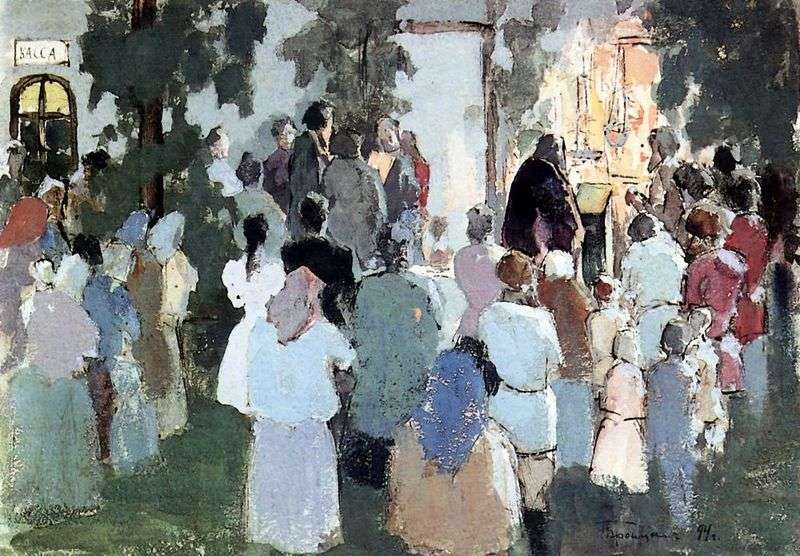 Railway station: station square, cash box, trees, exit to a troubled platform. On the square, women, children, peasants back to us. In the depths of the picture on the right, the priest before the unfolded book on the stand, a candle-lit wall, an icon on it. Where to look, what to think about? The cash box on the left: black at the bottom, yellow at the top, and the word "cash" above the window is written on a white background. On the right is a very fat black priest, in front of him and above the yellow wall is the repetition of the cash box window colors.
In contrast to the priest, all people are thin and in light, gray or red robes. Only a young man in a strict black suit. With him a girl in white. Newlyweds? A ticket bought in a black-and-yellow box office is the right to travel to the nearest unknown future: a week, a month of life. Therefore, the platform is so vague. The black part of the ticket speaks about everyday concerns related to food, housing, household chores, family, immediate plans. The yellow share of the ticket speaks about spiritual life, moral principles, relations between people.
Now they all gathered at the station before the trip, asking God to bless them, to help them in the next life. In their voice, on their behalf, the priest speaks in front of the yellow, spiritual wall. But the priest himself is black, fat – he lives only on earth, the needs of the body, which he generously feeds the insatiable womb. The artist is convinced that the simple people, dressed in light clothes, are morally whiter than the official servant of God and worthy of a better fate.