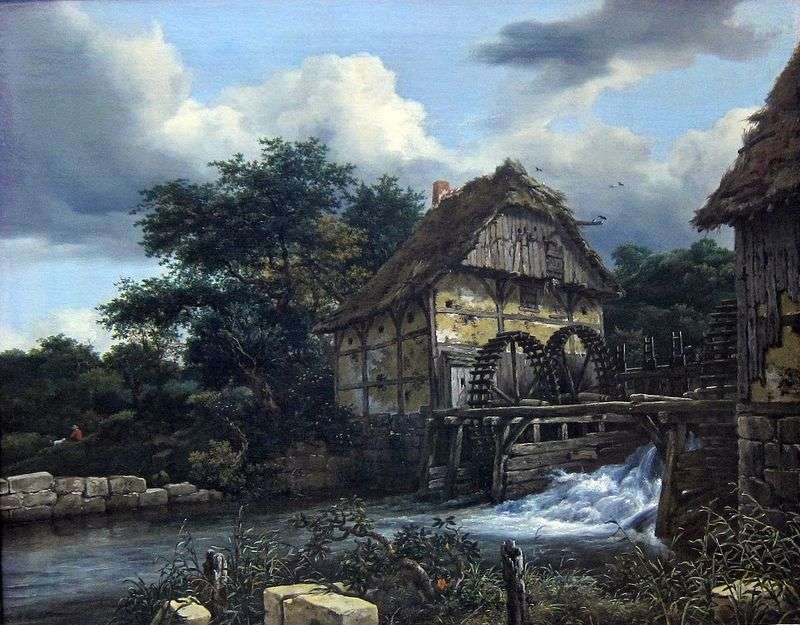 Painting by the Dutch artist Jacob van Ruysdael "Two water mills". The size of the painting is 54 x 68 cm, oil on canvas. Maiken Cornelisdochter died when Jacob was still a child, since Isaac had married for the third time already on March 9, 1642. A year later, his new wife, Barbertgen Huvenels, bore him a daughter, Maria van Reisdal.
Quite a few documents have been preserved indicating the poor economic and financial situation of the head of the family, Isaac van Reisdal. Later, Jacob, who was strongly attached to his half-sister, helped his father in overcoming financial difficulties. At the
same time, Reisdal treated his stepmother with great restraint. At least when Barbertgen Huvenels died in 1672, the painter did not pay for ritual services, and Reisdal's stepmother was buried in the cemetery for the poor.
Isaac van Ruysdael, the researchers of Dutch Baroque art are called artists, but no art work with his signature has been preserved to this day. Nevertheless, it is reliably known that the father of Jacob van Ruysdael earned his living by making picture frames, and also was engaged in trade in paintings of little-known Dutch painters.