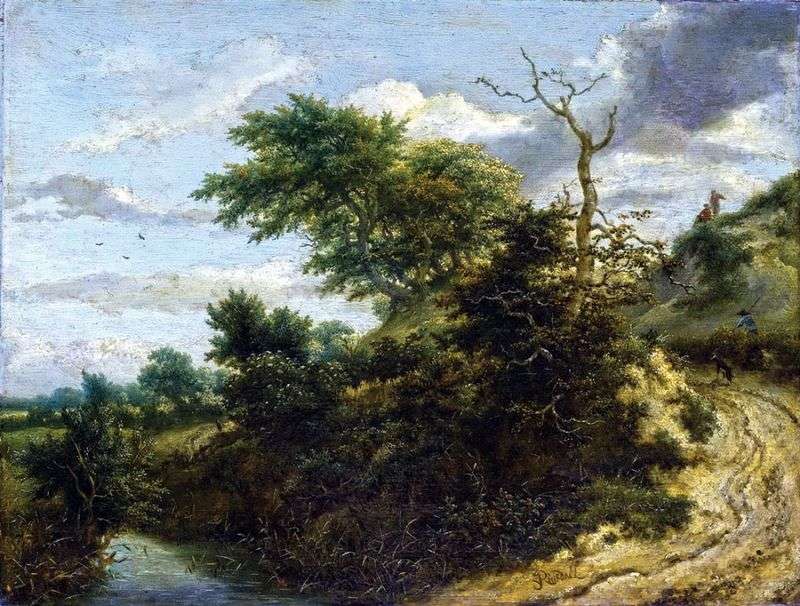 Painting by Dutch artist Jacob van Ruysdael "The road in the dunes". Painting size 32 x 43 cm, oil on canvas. Ruysdal liked to write small Dutch cities or villages, lost in the spatial distance of plains or coastal dunes under a huge, triumphantly imperious sky.
But the most powerful impression on the audience is, of course, the forest landscapes of Reisdal. The creative heritage of Reisdal is 450 paintings, about a hundred more canvases are attributed to the artist, but these paintings have not been definitively attributed. Jacob van Ruysdal died in early March 1682 in Amsterdam, but was buried
on March 14 in the Cathedral of Saint Bavo in Haarlem. The influence of Reisdal's creativity on Dutch contemporaries and on artists in other countries is undoubted.
In addition, the influence of landscape painting of the artist affected many generations of painters, in particular, it is certainly traced in the works of representatives of the Barbizon school. But the most powerful influence of Raisdal was in Britain, it can be seen in the art of Gainsborough, Constable and other English painters.