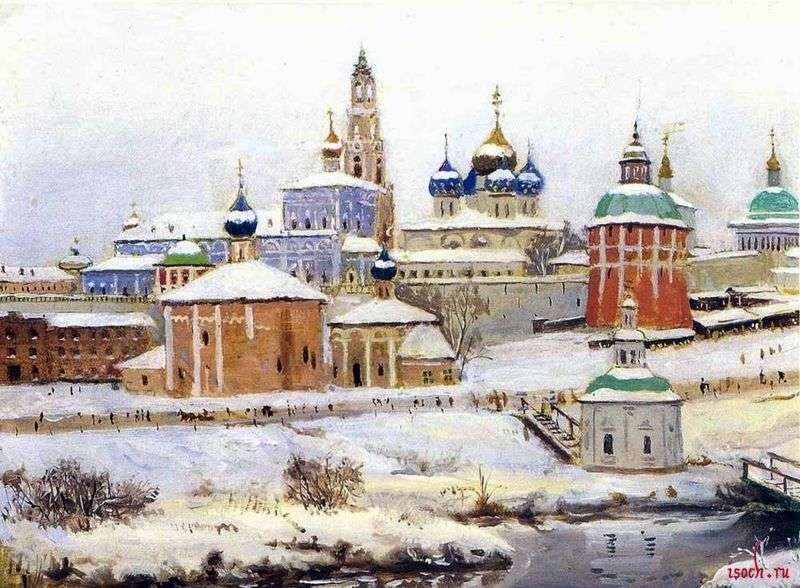 An artist who loved to depict his native land, his favorite places and their landscapes is Yonstantin Konstantin Fedorovich. Most of all his favorite cities were Rostov the Great and Troitsko-Sergius Lavra.
In great delight brings the viewer an extensive panorama of the laurels in the picture "Trinity-Sergius Lavra in Winter". The author on the canvas showed all the beautiful structures of the laurels. Pyatnitskaya and Vvedenskaya churches, the refectory with the church of Sergius, the Assumption Cathedral, the bell towers, the Church of the Nativity of St. John. All these temples and structures
for a long time were the center of the spiritual life of Russia. Their domes one after another are drawn to the sky, giving the appearance of unity and continuity of nature and spiritual life of man.
The foreground of the picture shows us the unfrozen river of Konchur. Through it a small bridge is crossed, passing through which we find ourselves in the wonderful and holy buildings of the laurels. There is a snowy road along which people go and carriages with horses. The author showed the sky in white, covered with snowy clouds. All the domes and roofs of the buildings are covered with a layer of snow. The land is white and clean, as if it shows that there are holy places here. Everyone can find peace and salvation.
The painting is very beautiful, historically artistic and full of faith in higher powers. Many people dream of looking at this beauty and visiting every temple of this spiritual city.