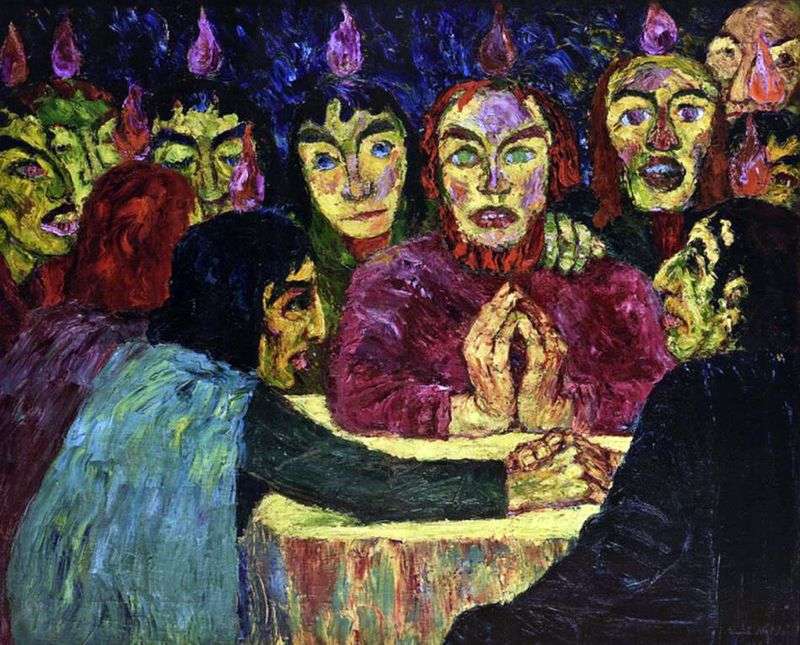 Emil Nolde, although he was one of the most prominent representatives of German expressionism, was part of the "Bridge", "Blue Rider", still remained a lone artist, who stood apart from artistic groups and associations. Nolde entered the art of a mature man, because he had no opportunity to study painting in his youth. In 1898 he enrolled in art school in Munich, studied at the Jiu-Liana Academy in Paris, traveled a lot, improving his skills.
Nolde worked in various genres, painted pictures on mythological and religious subjects. In 1909 he created a cycle of three paintings on biblical subjects: "The Trinity"; "Reproaching Christ"; "Last Supper". In 1911-1912 Nolde created one of his most significant works – the polyptych "Christ's Life" for the Neukirche church in Nibülle. Nolde's biblical works have powerful emotional power, despite the grotesque image that gives a "rough" pristine appearance.
The main role in the artistic effect of images is played by color, bright color spots, combined with the contours of the figures, creating the emotional rhythm of the works. Other famous works: "The Prince and the Concubine." 1918. Nolde Foundation, Zebull; "Dreamer". 1919. Sprengel Museum, Hannover.