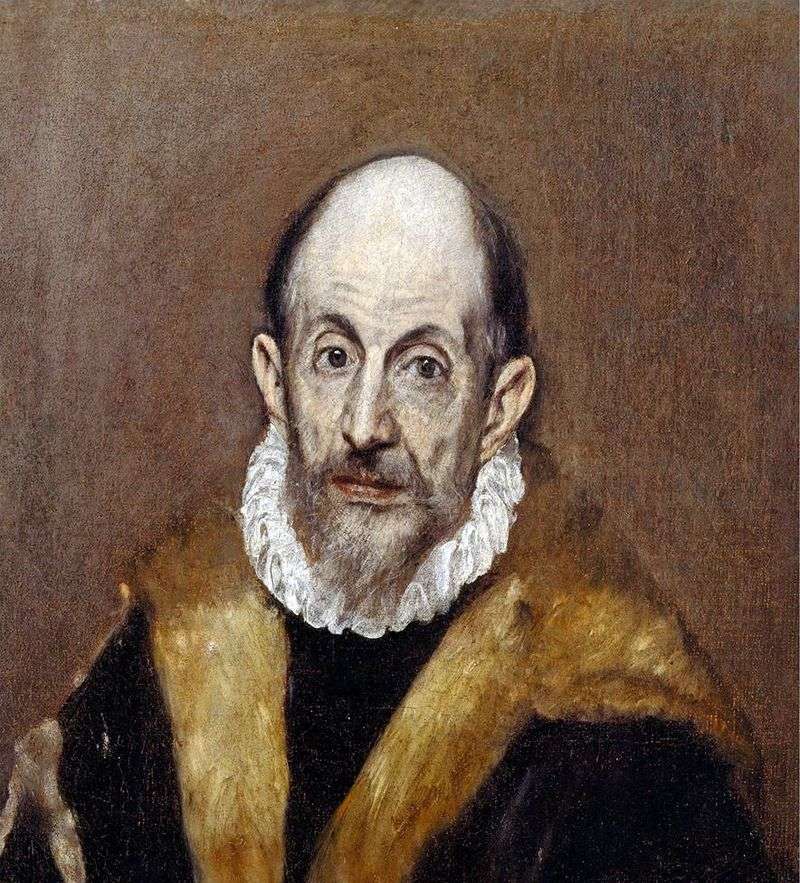 Self-portrait of the Spanish artist El Greco. The size of the picture is 53 x 47 cm, canvas, oil. El Greco Domenico, a Spanish artist. A Greek by origin. Information about life, especially about young years, is meager and presumptuous.
Originally worked in the late Byzantine scenic manner in Candia. In 1567-1570 he lived in Venice, perhaps he was a disciple or follower of Titian, experienced the influence of Tintoretto, Bassano, visited Parma, where he highly appreciated the work of Correggio. In 1570 he moved to Rome, gained fame in the Roman Academy of St. Luke. The stay in Rome greatly expanded the horizon
of the young artist associated with the humanistic environment of Cardinal Alessandro Farnese and survived the powerful influence of Michelangelo and the late Mannerists.
From 1577 until the end of his days, the painter El Greco lived and worked in Spain, in Toledo. Here El Greco made himself known for paintings of religious content and portraits, had an important influence on the direction of Castilian artists and died, according to Palomino, in 1614. As a painter, El Greco first imitated Titian and other Venetian colorists, but then, in search of his style, began to paint a limited number of colors, in bright, cold and sometimes disharmonious tones, and paint dryly and pretentiously in the so-called manneristic manner.
Nevertheless, even the later works of the artist El Greco have their dignity, which consists in a strong expression of a sternly pious, ascetic feeling. The most remarkable paintings of El Greco: "Warriors sharing the clothes of the Savior", "The torment of Saint Maurice and his companions" and "The Burial of Count Orgas". Very good are some of the portraits of El Greco, a sample of which, but not particularly important, a portrait of the poet A. Ercilia can be seen in the State Hermitage.
El Greco showed his talent as an architect and sculptor; according to his drawings, built Ayutamiento in Toledo and the church of de la Caridad and the barefoot Franciscans in Illescas. In the second of these churches, the carver El Greco has very expressive statues adorning the altars and tombs of the founders of the monastery. Self-portrait written by the Spanish artist El Greco at the age of about sixty years in the period of his late work.