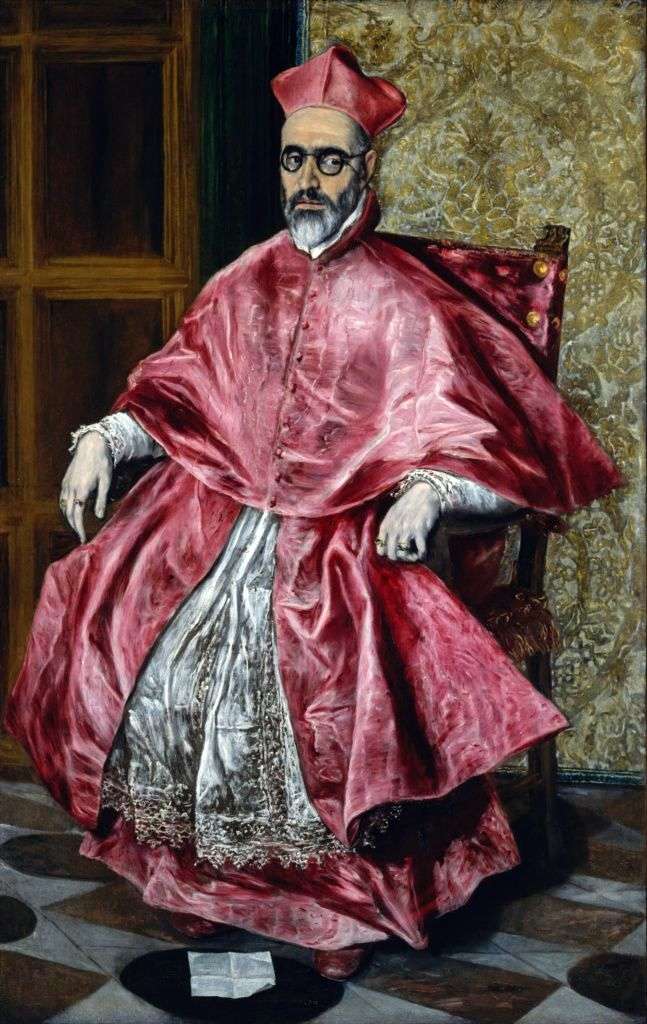 Although El Greco was known for his religious and forbidden works, reflecting the essence of Spanish fundamentalism of that time, he was also an outstanding portraitist whose paintings stand alongside the works of Diego Velasquez and Van Dyck.
Greco's picturesque style was formed by a number of different factors, including his study of icon painting, traditional Byzantine art and Mannerism, interest in Venetian painting, and the influences of Spanish mysticism in the city of Toledo. In addition, the master borrows some techniques of working with color in Titian, the dramatic lighting of Tintoretto,
the distortion of bodies in Parmigianino and the compositional features of Michelangelo, while remaining an excellent master, with a peculiar style.
Fernando Niño de Guevara, whose portrait is depicted on the canvas, was one of the most prominent figures of Spain, served as Grand Inquisitor, archbishop and president of Grand Chancellery. After his death, the cardinal was buried in the monastery of Toledo San Pablo. It is believed that this portrait was created to decorate his grave. Fernando was one of a number of high-ranking people, working with whom El Greco became known as one of the best portraitists of the era.
This picture is fascinating for several reasons, in particular, thanks to the unusual attitude of the artist and cardinal. Nine years before the creation of this portrait, El Greco is deprived of orders by government officials, however, recognition and enthusiasm among patrons from the churches and monasteries of Toledo continues to be recognized. But he does not get into the center of general attention. From the artist's point of view, the order for influential and well-known Fernando Niño de Guevara should be made as flattering as possible, presenting the cardinal in the most favorable light. Instead, the Greek painter created a work that amazes morbid honesty and realism.
Usually, El Greco signed his work with the phrase "Domenico Theotokopoulos did it." In this portrait, the artist's signature can be seen on a piece of paper lying at the feet of the cardinal.
The cardinal is depicted sitting on a velvet chair in a crimson robe, and his figure is slightly inclined diagonally, which adds more depth to the composition. The head of the Spanish Inquisition looks at us through the glasses, and is surrounded by the symbols of his high position. The exquisite outfit is enhanced by the icy stamina and detachment of this ruthless Inquisitor General, who has promised to persecute heretics everywhere.
On closer examination, however, it is clear that El Greco mocks and taunts the cardinal, since the viewer's attention is focused on inanimate decorativeness. Great attention is paid to color, folds, drapery of clothes and other details depicted in the smallest detail. The Inquisitor himself takes much less space, and despite the magnificent garments, is represented by a small man. His character is also criticized. The cardinal is hiding behind the glasses of glasses.