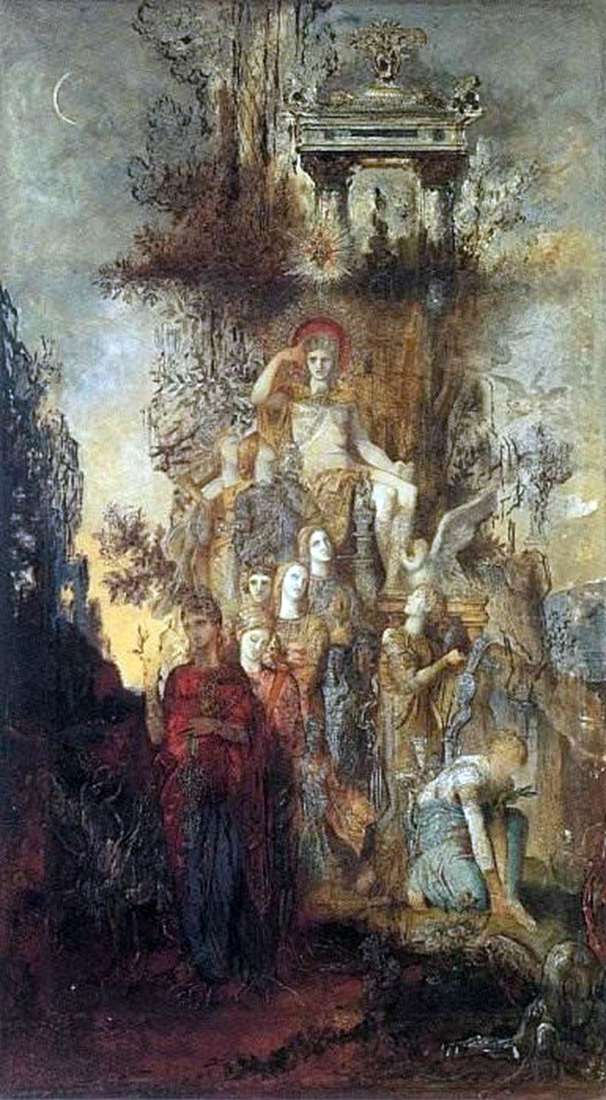 Creativity Gustave Moreau was divorced from the realities of the French life of the XIX century. He created mythological and religious paintings, fashionable for the time. The artist created his own fantastic world in his works. He developed his bizarre manner of writing, which was not combined with realism and impressionism, but contemporaries considered his work as innovative.
In 1868, Moreau completed his work on the painting "The Muses Leaving His Father Apollo," the plot of which was based on the myths of ancient Greece about the gods of Olympus. Apollo is a golden-wise and beautiful god
of sunlight, patron of the arts and leader of the muses. On Mount Parnassus, along with the muse, he delighted the ear with his music and songs of the inhabitants of Olympus.
Muses possessed a prophetic gift and helped creative people. In the painting "The Muse, leaving his father Apollo," the artist depicted a god sitting on a throne, with a pensive look accompanying the beautiful muses. A crown resembling a sun disk adorns his head. Muses have always been depicted as young and beautiful girls. So in this picture the muse – beautiful maidens, looking around with sad, pale faces leave their patron. Among these young virgins you can recognize the muse of heroic poetry and eloquence, Calliope. She is the eldest muse and dominates the rest.
The artist depicted her in the foreground in a golden crown on the brow and red attire. She is the first to leave her father, and the rest of the muses follow her. Thin month hangs in the gray-blue sky over the temple of Apollo himself. It is like a haze scatters around. Moro color highlights the planned pattern.
The foreground is written in rich purple and red colors, the center of the picture is in golden and pale yellow tones, and the background is written in silver, blue and gray shades. Thus, the artist conveys aerial perspective. The picture seems unfinished, as it has unfinished details. Admire this masterpiece at the Gustave Moreau Museum in Paris.