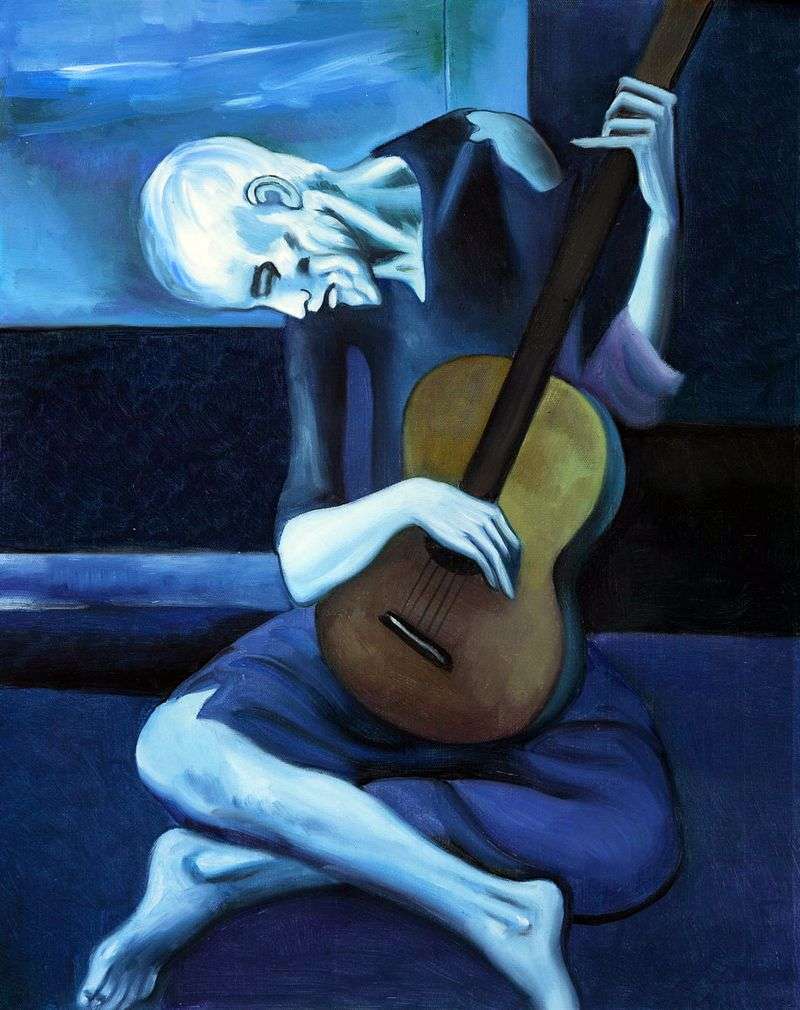 The Blue Period is the most piercing page of Pablo Picasso, not only because of the events that preceded him, but also because of the peculiarities of the master's technique, as well as the dominant color chosen. Cold, even icy blue in all its variations becomes the dominant color.
"Old Guitarist" is one of the illustrative works, and on the technique, and the plot, and the power of the tragedy. We see a gray-haired ragged one who finds solace in an old guitar. His clothes resemble rags, and his body was so draining that some critics perceived the elongated thin fingers of the hands as a
tribute to El Greco.
The painter deliberately placed the angular figure into a closed tight space, also twisting it into an uncomfortable position. All this underlines human suffering and a sense of hopelessness, as well as unbearable loneliness. Tearing off his eyes from strange hands, the first thing that attracts the attention of the eyes of the old man. They are blind. This tragic paint has also been repeatedly applied by Picasso.
In the films "Breakfast for the blind", "The boy and the beggar", "Celestine" the characters look at the viewer with unseeing or almost unseeing eyes. All this has an incredibly strong impact and finds an emotional response. The picture was not once compared with a kind of self-portrait, and it is not a reflection of the author's appearance, but rather of his severe internal state due to the loss of a loved one.
Not so long ago, scientists in Chicago enlightened the picture on X-rays, and saw that the first thing on the canvas was a completely different story – a woman who was breastfeeding. Subsequently, the author created in her place a blind old man in blue tones, however, the contours of the face of the previous heroine can still be discerned behind the left ear of the guitarist.