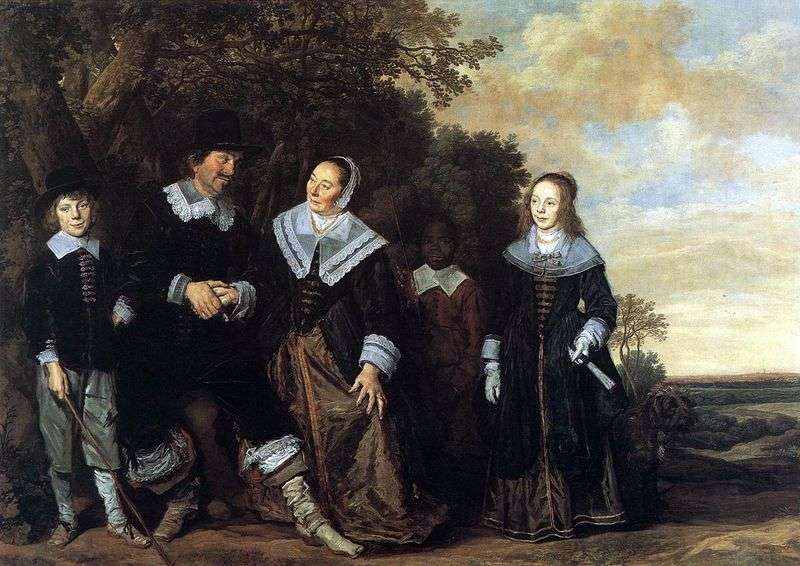 The Protestant church welcomed large marriages, considering, unlike the Catholic Church, it was them, and not abstinence, the cornerstone of public morality. The Institute of the Family was highly respected in the Dutch society. Hals wrote four family portraits. In this case, we have a "Family portrait in the background of the landscape", ca. 1648. We do not know anything about people who look at us from a picture. Most likely, they are rich and quite happy in the small world of their family.
Husband and wife hold each other's hands, as befits honest spouses, sworn to each other in eternal fidelity before the altar. Next to them are their children – a boy and a girl. Children also look quite happy life, their faces are a bit naughty and good-natured. Only one character in the picture is thoughtful and sad – this is a black servant, written behind his masters. If it were not for the white collar of his camisole, he would have completely lost himself in the dark background of the trees.
The Negro servant is a very accurate and characteristic sign of the times. It was in those years that Holland began to actively develop overseas lands. The non-giants brought spices, coffee, and black servants from there. The landscape, against whose background a respectable family is written, belongs to the brush of Peter Moleyn, the famous Harlem landscape painter, who often worked in creative tandem with Khals.