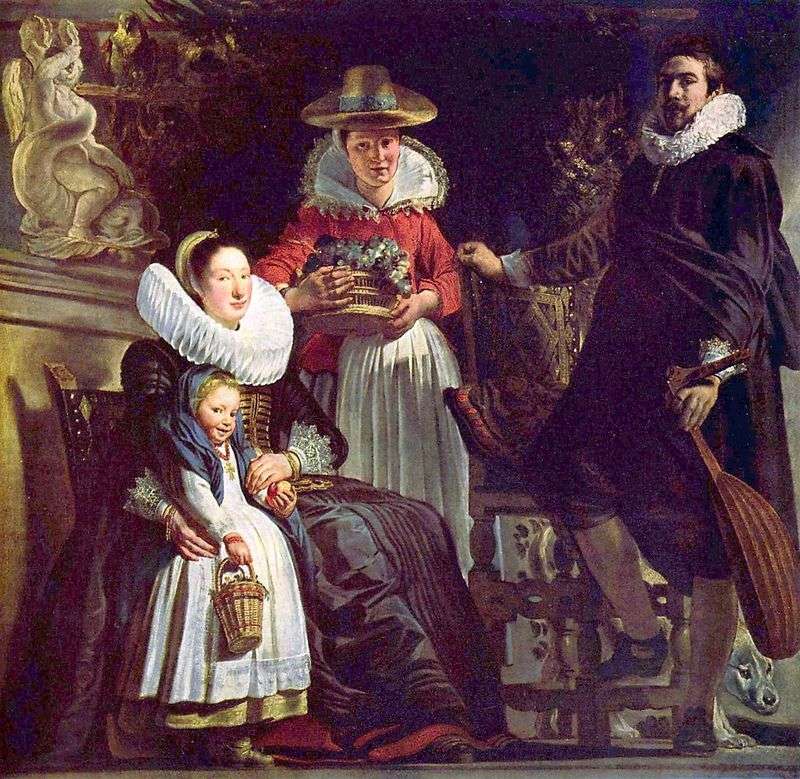 Iordans rarely painted portraits, as such, although he was an excellent master in this matter. This picture is not only a group portrait of the painter's family, but also the very structure of the burgher life. The painting depicts the wife of the artist Catalina van Nort with her daughter Elizabeth, a servant holding a basket of fruit, and the artist himself, with a lute in his hands. And the composition, and the color solution, speaks of tranquility and harmony.
The artist and his wife, dressed in dark outfits, share a bright red color spot in the clothes of a servant. A confident figure creates a three-dimensional shape, reinforced by the side light, which falls to the right of Jordaens' wife and emphasizes the girl's sly smile.
The soft and calm face of his wife rests on the complex lace of the Spanish collar. Her dark dress with beautiful trim serves as a beautiful background for the girl's figure, dressed in a pinkish dress with a white apron. A blue-green handkerchief on the child's head is nicely set off by the golden-rimmed curls that have emerged from under him. From the canvas breathes joy and tranquility reigning in this prosperous house.