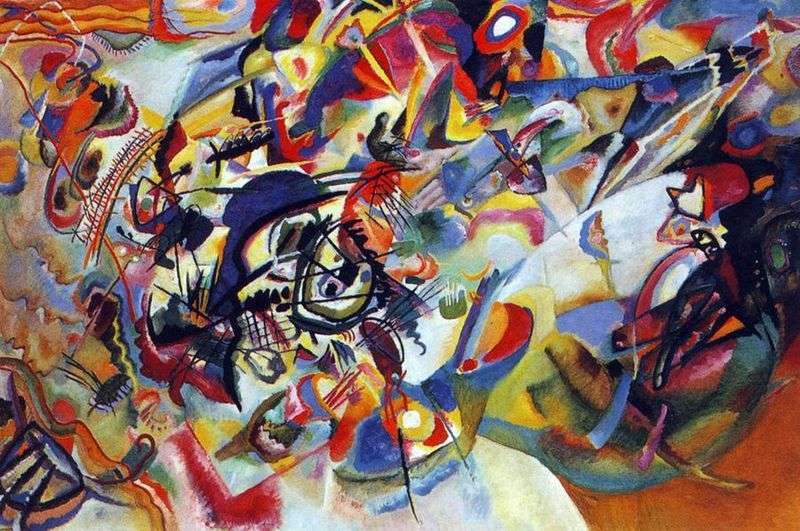 Kandinsky in this period worked on a new pictorial formula consisting of lines, dots and combined geometric figures representing his visual and intellectual research. Lyrical abstraction shifted towards a more structured, scientific composition.
The seventh composition is rightly called the peak of Kandinsky's artistic work in the period before the First World War. She was preceded by more than thirty sketches, watercolors and oil paintings, which "document" the process of creating a work. Surprisingly, after the artist completed the long preliminary work, the composition itself was written in just four days, as evidenced by photographs taken between November 25 and 28, 1913.
The main motive is an oval shape intersected by an irregular rectangle perceived as a center surrounded by a swirl of colors and shapes. Art historians, thanks to the records and studying some works, determined that the Seventh composition is a combination of several themes – Resurrection from the Dead, Judgment Day, the World Flood and Paradise Garden, expressed as a symbiosis of pure painting.
The transition to the use of basic pictorial elements marked the beginning of the dramatic period in Kandinsky's work and became a harbinger of the emergence of abstract art. Kandinsky conceived a new style, now known as a lyrical abstraction.
The artist through drawing and drawing simulated the current and depth of the musical work, the coloring reflected the theme of deep contemplation. In 1912 he wrote and published the fundamental study "On the spiritual in art".