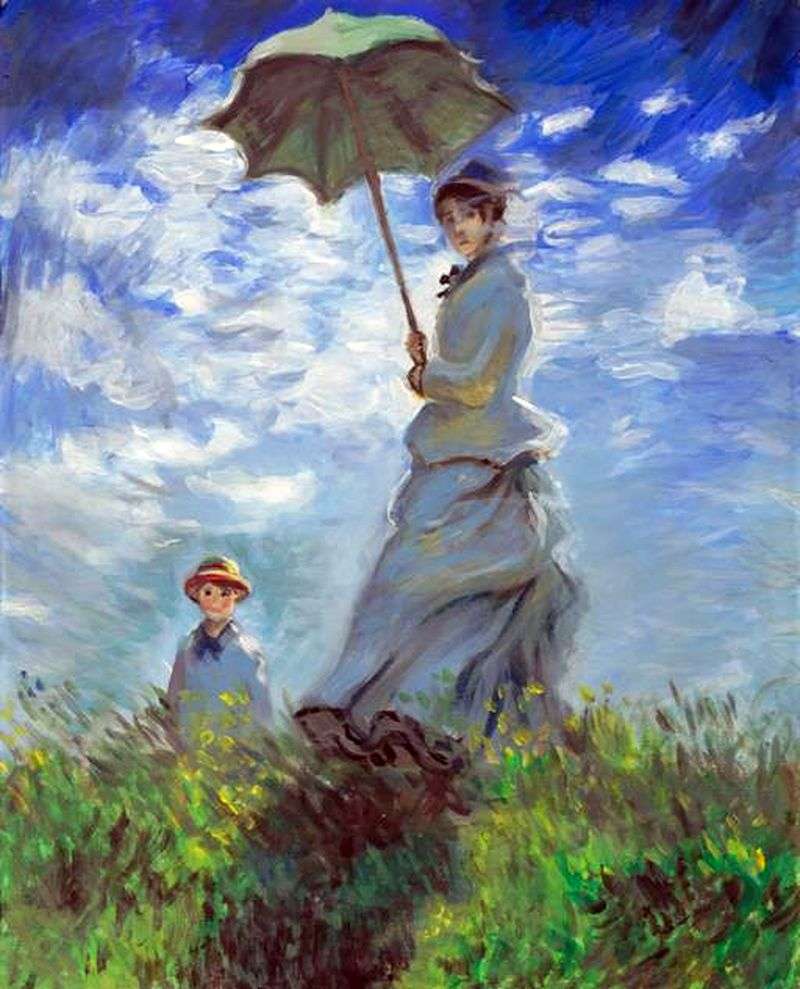 Monet – French painter of the XIX century, the founder of Impressionism. Claude began to draw at an early age. At first, an enterprising little Monet painted caricatures and sold in the shop of his father, he later became interested in landscape and began to create his famous paintings.
The first wife of the artist, Camille Doncieux, is a model of a number of paintings, including "The Lady of the umbrella. Stroll". Monet loved to paint his wife, when they lived in Argenteuil. The woman gave birth to two sons of the painter. Her already fragile health has weakened the birth of a second child soon after birth the woman died.
Monet later wrote a posthumous portrait of Camilla. It is called "Camille Monet on her deathbed."
In 1875, the artist painted "Walk. The lady with the umbrella, oil on canvas.
It depicts Camilla with her eldest son, Jean. A woman stands on the hillock against the blue sky with running over it with white clouds. A little further, there is a small child, so the viewer's attention is focused on the woman. Girl dressed in a light blue dress. Perhaps it is white, but appears blue on a background of blue sky. In the hands of Camille old umbrella.
The weather was pretty sultry, bright sun warms with its rays that flooded all around. Characters picture if dissolved in the sunlight.
By the breath of the breeze develop hair and garb of a young woman. Running through the sky clouds create an impression of lightness of the entire space. And the woman seems easy and weightless, as if about to take off into the unknown with the clouds.
At the artist woman looking a little surprised. She is confused by the fact that it was caught off guard, but not in a hurry to escape. Curiosity got the better.
Monet is not interested in landscapes. His focus is on the woman in the air and the beautiful nymph. He only painted under the feet of the goddess green meadow and tree branches, under which stands a woman.
The work of Monet closely watching his son, a little boy. Far away from the mother and if he oversees the work of the painter. The boy absorbed in the process of writing web, curiously watching the movements of the artist's hand.
From the bright and clear picture of Claude Monet's "Walk. The lady with the umbrella, "it becomes easy on the soul. It emits joy and love, speaks of the ethereal, that is hidden behind the blue of the sky, the clouds. The artist managed to unite the heavenly and the earthly, and the ordinary life of eternity.
Camilla, four years after the painting, dies of tuberculosis. But her husband on canvas immortalized forever young and blooming, giving a joyful moment for all those who admires the painting.
Now work is in Washington at the National Gallery of Art.