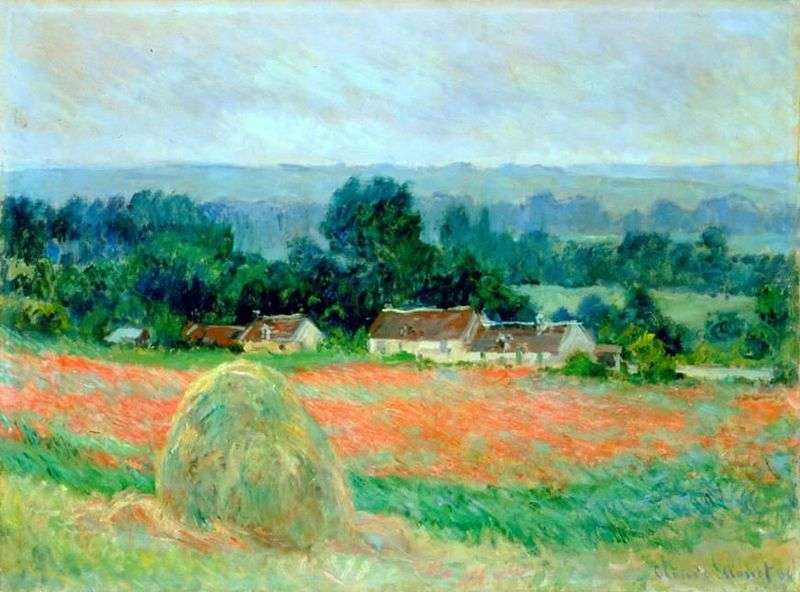 The work "The Haystack at Giverny" was painted by the famous French impressionist Claude Monet in 1886. In this picture, the artist used one of his best skills – he skillfully worked with chiaroscuro. The artist has always been fascinated by the play of light in nature, he devoted much time to observing the details of these phenomena live. He spent a lot of a kind of study of light, in consequence of which he found out for himself that the slightest change in light could radically change the appearance of any object or landscape as a whole.
The artist decided to use the results of his observations in practice, creating many identical landscapes at different times of the day, with different lighting. Thus, whole cycles of similar pictures appeared. One of such cycles was a set of landscapes with the image of haystacks, into which this canvas enters. The artist created this work in Giverny, in the same place he created many of his other famous paintings, which later brought him considerable fame.
When you first view the picture is difficult to see in it something special. It is hard for the viewer to understand why the artist was interested in this landscape, perhaps he put some secret meaning into it.
The painting depicts a very ordinary weekday in a quiet rural area. The picture can be visually divided into two parts horizontally. In front of the picture, fresh dark green grass is depicted, on which lies a massive haystack, which instantly catches the eye of the viewer and attracts his attention. The stack looks slightly uneven, which emphasizes the realism of the landscape, because in reality there are no perfect things.
Behind this fresh strip, another begins – illuminated by a blinding summer sun, endowing the grass with bright reddish hues. The transition from light to shadow is depicted as clearly as possible, it goes not in a straight line, but along a broken line that runs along the diagonal of the canvas, which once again underlines its reliability and dynamism. In the background is a small grove and a few houses, which, due to the light falling on them, strongly contrast with the dark trees behind them. All this gives the picture ease.