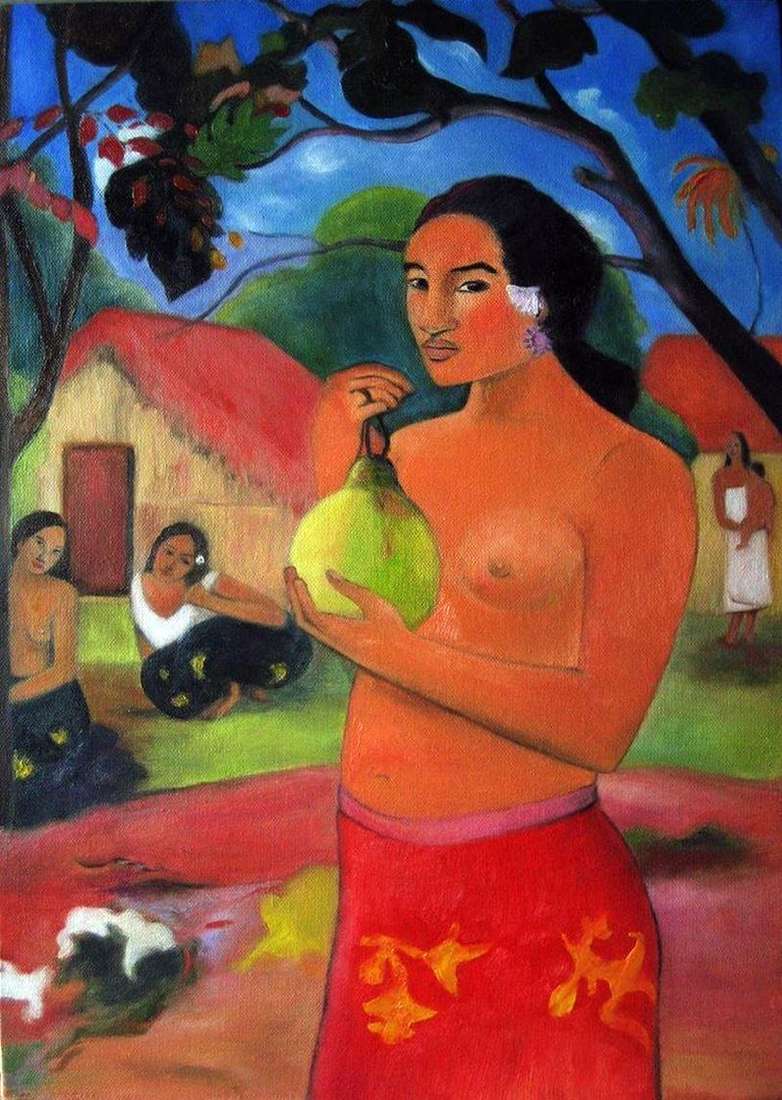 One of the most recognizable paintings of Paul Gauguin – "A Woman Holding a Fruit" is also known under her Maorian title "Where are you going?". Some researchers believe that the questioning signature, which is so characteristic of many works of the Polynesian period, appeared many years later.
The plot of the picture is based on the everyday description of the mediocre village of Tahiti, which seems strange and exotic to Europeans.
In the foreground is a young girl whose hips were girded with a red pareo bandage. In the hands of a Tahitian woman there is an exotic fruit
remotely resembling a vessel she carefully holds. Other art critics say that the girl really has a vessel carved from a pumpkin, which means that the heroine is going to go for water.
The heroine itself is portrayed in a rather flat way, in Gauguin's style. She has a beautiful skin color, strong body. There is evidence that the picture depicted in the picture is different, as Tehura is a young wife of Gauguin.
The background for a stately Tahitian woman is served by two huts with her inhabitants, whose faces and figures are deployed to the viewer. The whole of nature is depicted in a static way, since the painter never tried to convey in his paintings the subtle sunlight and air movements in his pictures – he saw the purpose of capturing the momentary fragment – the frame.
After Gauguin was accepted by the artistic community, the researchers rushed to interpret the artist's artistic heritage, "Where are you going?" was not an exception. Some began to see in the islander with a fruit in his hands, a kind of embodiment of Eve, and the fruit, in turn – as a symbol of motherhood and fertility. Others saw in the picture a hint of personal circumstances of the artist – the right-standing woman with a child, makes a hint of the interesting situation of Tehura's wife, in which she was in the period of the creation of the work.
The canvas was purchased by a famous Russian merchant and philanthropist Ivan Morozov and went to Russia to supplement his remarkable private collection. As usual, the picture of Gauguin along with other masterpieces were nationalized after the revolution.
One of the curious, but little-known facts is that there are two versions of this picture: the first version of the picture is a year younger than that exhibited in the Hermitage, and he is in Germany at the Stuttgart State Museum, significantly different from the well-known "Woman Holding the Fruit" .