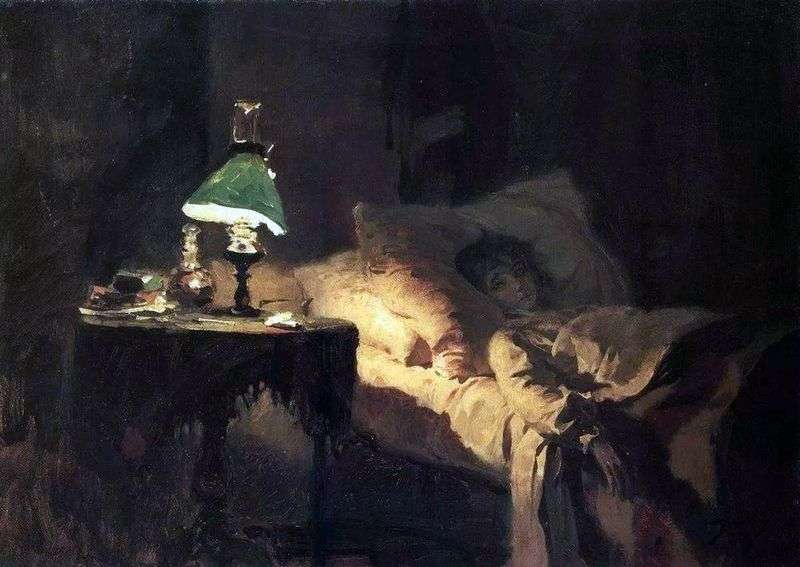 The picture was conceived by Polenov in 1873 under the impression of being acquainted in Rome with Elizaveta Boguslavskaya, a Russian student who had come abroad to study, who was seriously ill and died of pulmonary tuberculosis. Lisa became the first model for the painting The Death of a Girl, later implemented as the Sick. Deeply struck by the artist at this time and the death in Rome of the young Marusya Obolenskaya, whom Polenov got carried away during the pensioner's trip. Then, in 1873, the first sketch for the painting was made.
Work continued on the canvas in 1881 after the death of her beloved
twin sister Vera and finished in the year of the death of her first-born son. The direct feeling of the artist, who survived the pain of losing people close to him, the feeling of inevitable death, helplessness before her and perplexity before her senseless, merciless promiscuity, which takes away still young lives – all this was embodied in the Patient. As in any other work of Polenov, the immediate feeling of the artist, his world perception was clearly expressed here.
The tragic approach of death is felt in the blue-ash darkness enveloping the room, absorbing the figure of a teenage girl, in her haggard face with large flour-filled eyes, in the mournful silhouette of a woman with a hopelessly bowed head, in anxious, barely penetrating from under the curtains drawn, glimmers of blue dawn, arguing with the warm light of a desk lamp. But gradually the viewer's attention is attracted by the still-life of the amazingly beautiful painting with a lamp under the green lampshade.
The lamp rejects a soft warm light, and its iridescent pinkish-golden reflections fall on the edge of the sick bed, play a yellowish-olive glare on the glass and the decanter with water, saturate the battered and faded book covers with color and finally combine all these colors in muted tones of red brown tablecloth. According to its richness and sophistication of colorful combinations, this is one of the most beautiful still lifes in Russian art of the second half of the 19th century. Due to its color development, it becomes a kind of symbol of the eternal beauty of this world, the feeling of which is not lost by the artist even in the face of suffering and death.