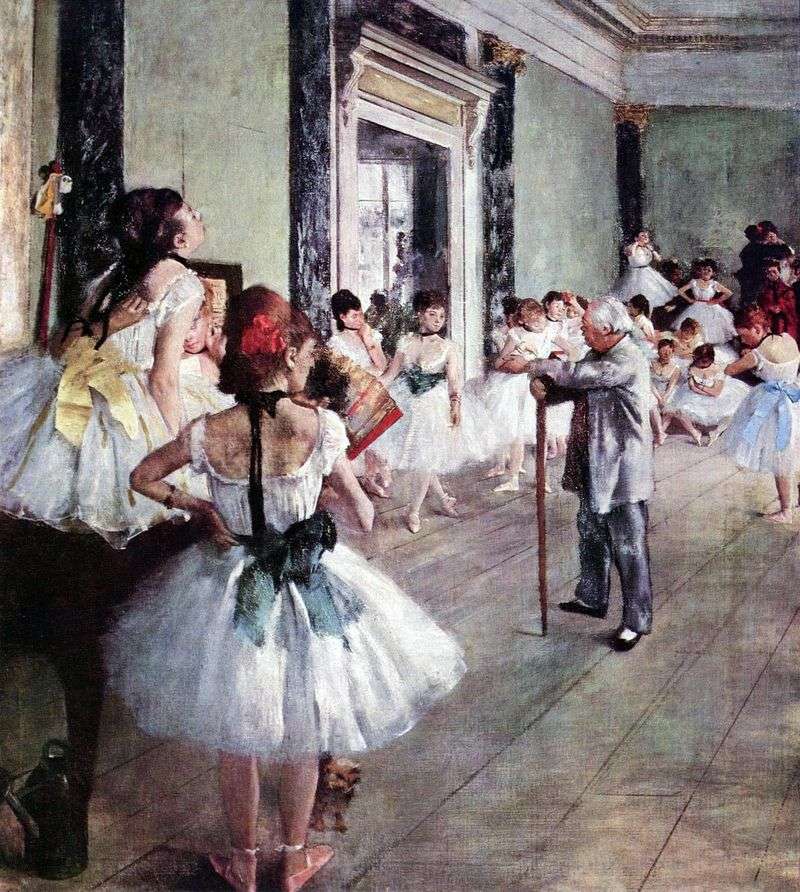 Degas often wrote dancers, their weekdays and performances. The technique of impressionism used by him was the best way to convey airy, static-free images. In the artist's paintings fragile and weightless figures of ballerinas appear before the viewer in the light of spotlights on stage, then in short moments of rest, then, as in this work, in the walls of the dance class.
The scene depicted on the canvas seems accidentally noticed: the ballerinas perform exercises under the guidance of the famous dancer and choreographer Jules Perrot. The angle is somewhat unusual – the viewer sees everything
happening a little from above. The composition is built around an elderly teacher.
Jules Perrault is depicted leaning on a cane, which takes him to the shoulders, and the dancers around him look like a cluster of white clouds. However, despite all their lightness, it is clear that ballet is hard physical work. It should also be noted that the image of dancers in the paintings of Degas is devoid of any personal human contact. The artist is no more than an impartial observer of the scene.
The theme of the theater and especially of the ballet was always of interest to Degas. The artist tried to show not only the beauty of the movements of dancers, but also their difficult everyday life, taking place in endless rehearsals and lessons. When the artist was asked why he was so attracted to this topic, he replied: "The dancers have served me as an excuse to write beautiful fabrics and transfer movements."