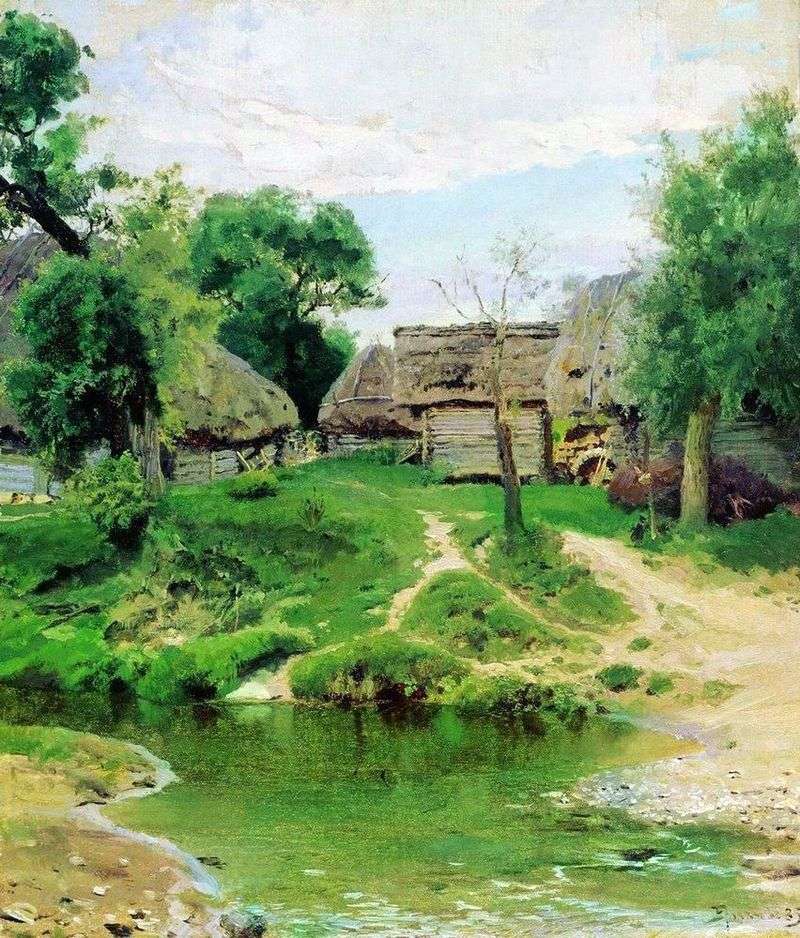 "Village Turgenevo" recognized by art historians one of the best landscapes in the work Polenova. The canvas clearly feels the emotional and technical relationship with the other three, the most famous paintings of the painter – "Grandma's Garden", "Overgrown Pond", "Moscow Yard".
Simplicity and some unpretentiousness, natural beauty with a hint of human presence, gentleness and lyricism – all this found a place on the canvas.
The village of Turgenevo is to this day an existing place located not far from Moscow on the bank of the confluence
of two rivers, the warm Rozhayka and the cold Villain. At the time of Polenov, it was a quiet, peaceful place, famous for its beautiful nature and forest reserves. No loud history, no outstanding architectural monuments did not see this place, however, the artist didn't need it at all.
The most amazing feature of Polenov the painter is the ability to see the beautiful in the most seemingly inconspicuous things. At the same time, the merit of the master is not only in the attentive and sensitive look, but also in the delicate ability to present, "explain" this beauty to the viewer, opening for him a completely new aesthetics.
In the picture we see the bank of a narrow shallow river. Overcome a small hill climb – and now the village with old houses, traditionally covered with thatched roofs. The trampled-up narrow ruts, on which the feet have trod many times, the old tree, on which there is no foliage anymore, which contrasts with the lush greenery of other trees, is all so true, simple and understandable. Moreover, this pure beauty of an ordinary Russian town is clear even after many years, to us today, to the same extent as Polenov's contemporaries.
Today, this amazing picture is in the State Memorial Historical-Art and Natural Museum-Reserve named after V. D. Polenov.