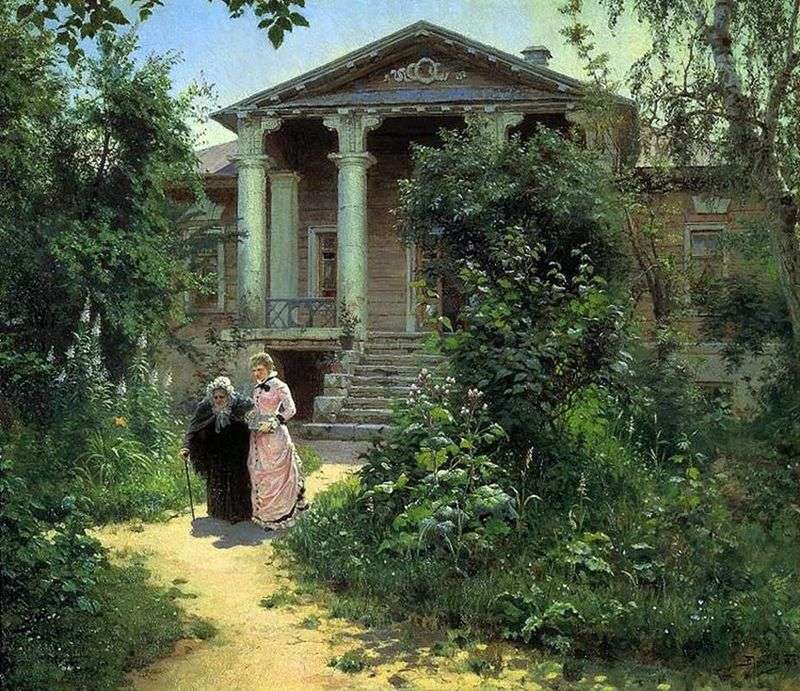 The picture is written in the landscape-everyday genre. This is a lyrical reflection of the artist on the meaning of life, on its transience, on destruction and creation, on beauty.
While portraying an old lordly mansion and its decrepit proprietor, Polenov does not focus on the social characterization of images. A hunched-up, all-black woman walks along an overgrown path in the garden accompanied by a pretty girl in pink. She is the very personification of old age. as her companion – youth and beauty.
A mansion can be seen through the dense greenery network. The viewer clearly sees only the
portico, the staircase and part of the wall of the house. A few details – damaged stucco on the pediment, peeling plaster on the columns, uneven steps – Polenov makes it clear that time has ruthlessly left its mark on the mansion, but the noble simplicity of its architectural forms has not lost its appeal. The beauty of architecture is surprisingly in harmony with the person, claiming the beauty of being.
And nature, unlike man, blooms again and again – this constant update is subtly conveyed by Polenov. The lush greenery of the garden occupies most of the picture, emphasizing the indestructible power of life. It is characteristic that Polenov mainly shows exactly young growth, fresh and juicy, leaving outside the image trunks of old time-distorted trees.
The fusion of man with nature, quiet and natural, gives meaning to their existence and poetry. Painting paintings, distinguished by the subtle elegance of a combination of delicate ash-gray, lilac, pale pink, sand, silver-green colors.
The mood of the picture is clear, somewhat elegiac.