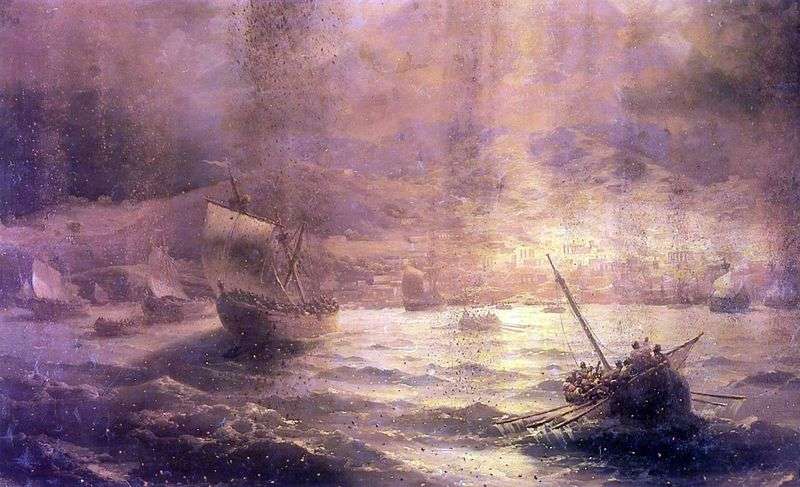 In ancient times, there was a beautiful city of Pompeii, which was buried under the ash layer of the volcano Vesuvius. This story is known, thanks to the picturesque canvas of Karl Bryullov.
In the picture he portrayed people locked in the city who are trying to escape from the deadly element. Bryullov pays special attention to drawing faces to convey the panic horror and confusion of the inhabitants of the dying city. But for many there remains little known fact that Ivan Aivazovsky also addressed this topic. In 1889, the artist creates a painting called "The Death of Pompeii." The artist was on friendly terms with Karl Bryullov, and most likely he influenced the choice of the name.
Aivazovsky in no way imitated the model, since he was a seascape, the main theme in the picture is the sea. The sea is saturated with crimson, brownish-yellow tones, which symbolize the lost lives of people under the lava. Such a color palette conveys the boundless horror of a terrible phenomenon. But there is still hope for salvation for the heroes. It is transferred by the artist in the form of ships, which try to escape from a terrible death. Carefully looking closely at the picture, you can see and Vesuvius, who became the main culprit of this trouble. To increase the effect of presence, Aivazovsky sprinkles a canvas of black ashes settling on the water.
The painting "The Death of Pompeii" and other masterpieces by Ivan Aivazovsky can be seen in the Rostov Regional Museum of Fine Arts.