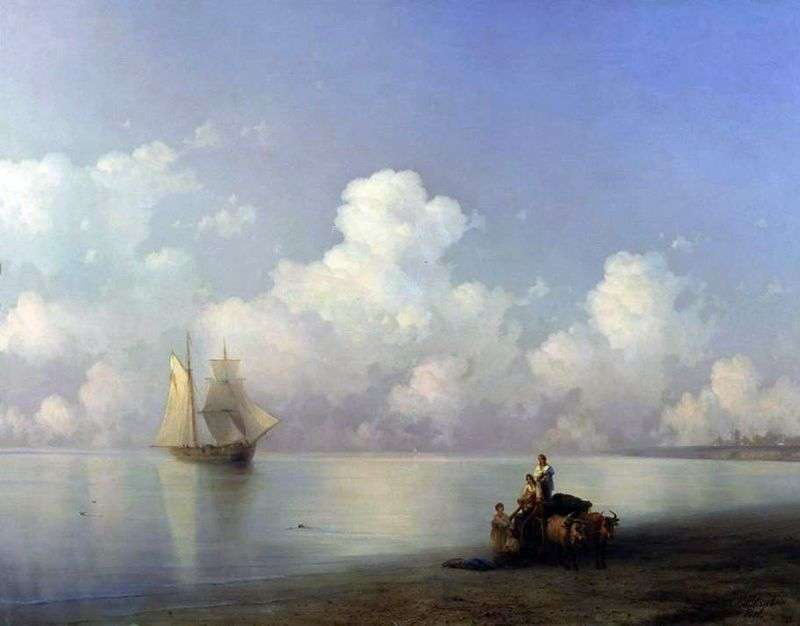 Both the life and work of Ivan Aivazovsky were inextricably linked with the sea. Therefore, the main character of almost all of his paintings – the elements of water. With the growth of Aivazovsky as an artist, one can also see changes in his work – his early works are full of dynamics, riot of nature, but over the years storms and storms subside, the pictures become more realistic.
Written in 1871, the painting "Evening at Sea" refers to the late, mature period of Aivazovsky's work. The sea is completely calm, depicted very realistically, and poses no danger to people on the shore – one of them decided to plunge into his cool calm waters.
The composition of the picture is original – the angle of view chosen by the artist, on the one hand, shows an endless water surface, and on the other creates a closed space. The artist achieved this by limiting the water surface to dense clouds on the horizon and the coastline in the foreground. A small fragment of the calm sea, depicted in the picture, is easily illuminated by the rays of the evening sun.
The mood of Aivazovsky's painting "Evening at Sea" is conflict-free, balanced, full of tranquility and harmony. The work is very realistic, does not have bright colorful accents and color spots, the artist used light colors. This style of painting is typical for the late period of Ivan Aivazovsky's creativity.