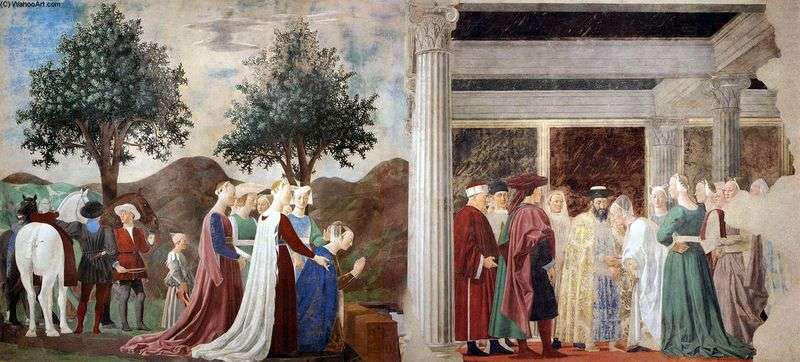 The composition of this fresco is clearly divided by the master into two halves. To the left, the viewer sees the Queen of Sheba, kneeling before a piece of wood, from which the Savior's flour will be made later. Legend has it that a branch from the tree of the knowledge of good and evil was planted on the tomb of Adam. Over time, this branch grew into a large tree. And it, in turn, was cut down by the servants of King Solomon, to make a bridge out of him through the stream.
When the Queen of Sheba, who decided to visit the glorified lord, approached this bridge, she had a vision, and the queen, seeing that a cross was made from this tree, on which the Savior would be crucified, reverently knelt before him. On the right – the continuation of the same story about the visit of the Queen of Sheba, King Solomon. The tsar bowed to Solomon, and he graciously held her by the hand. The meaning of this gesture is difficult to understand – or the queen wants to kneel before the wisest of mortals, and he keeps it from it, or she wants to kiss his hand, and he graciously allows her to express her feelings in this way.
In order to achieve the greatest dramatic composition of this part of the fresco, Piero della Francesca divides it into two parts – male and female. In the retinue of King Solomon there are only men – severe and arid. In the retinue of the Queen of Sheba – only slender young women.