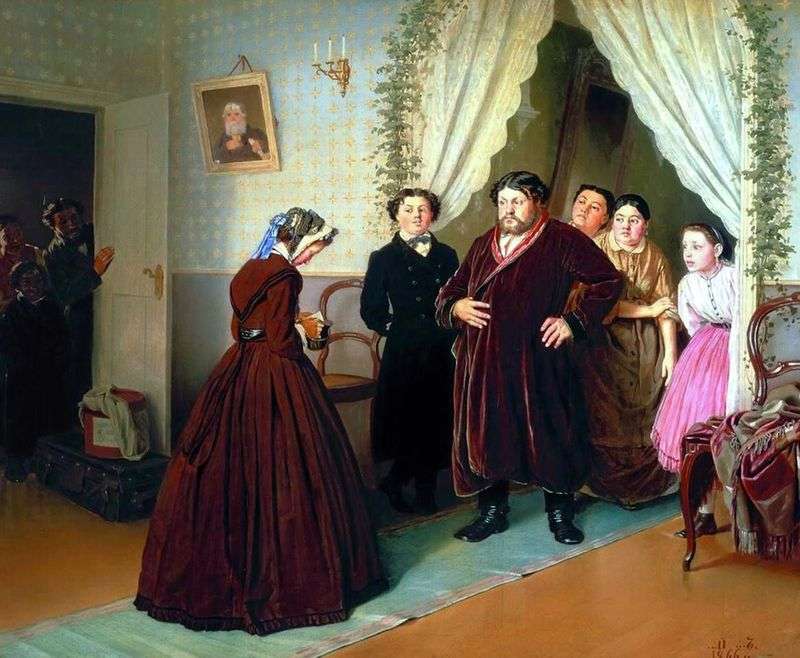 In this picture, the author depicts the moment when the governess takes in a rich house. Although this situation was very ordinary, it was perceived all the same unusually.
Wealthy people invited a girl to the house who would teach their children the necessary manners. These well-off gentlemen themselves were far from being scientists, but they wish all the best to their children. And although both parents do not see much importance in the girl, but they strive to ensure that they have everything just like people.
Reception governess is not so warm. The girl bows to a merchant who glances at her suspiciously
– who is this, where she came from. He condescendingly looks down at her, while indicating her place in the house.
Next to the merchant is a son. This is a young man who, though arrogant, but at the same time with undisguised interest is watching a woman in their home. From the back of his father peeped out merchant and daughter. They also look at the guest with great attention. Their bad manners can be seen with the naked eye – they stand with their mouths open.
The servants of wealthy merchants gathered on the left side of the other doorway. Their interest is no less, but in their eyes there is no arrogance. A young lady with high manners soon join them.
The governess will now teach the merchants' daughters language, sewing, high society manners. Could she imagine that after receiving an excellent education, she would get here? It is unlikely that the girl was expecting such a fate.