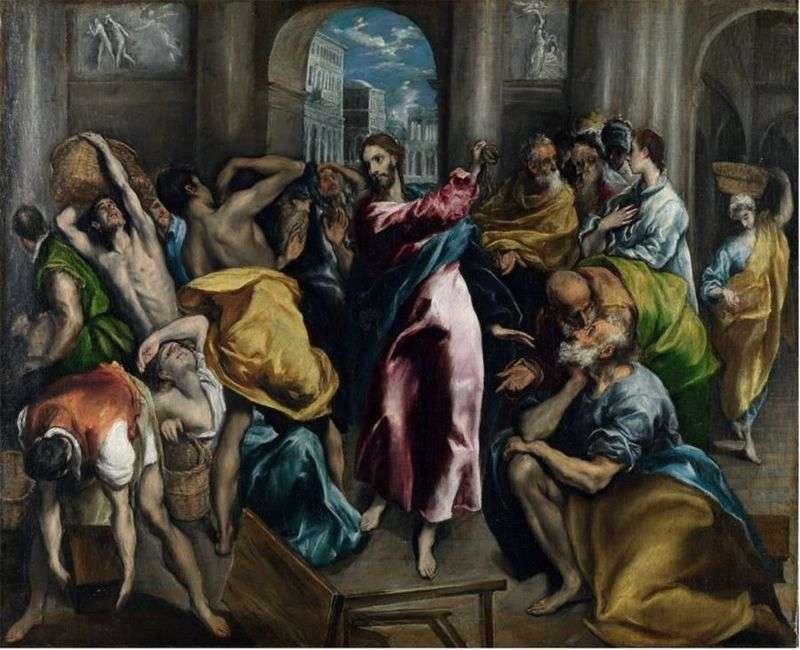 The painting, which is based on the popular biblical story of the purification of the temple, is one of El Greco's most famous religious paintings and a landmark work for the Catholic transformation of 16th-century art. It is worth noting that this is not the only version of the canvas, and the author has depicted at least four more versions of the composition.
The expulsion of merchants from the temple, completed in Toledo, depicts the story of the "purification" of the temple, which occurs in all the Gospels. The scene unfolds in the temple of Jerusalem, where the market was located and various manipulations with money were carried out. On canvas, Jesus in red robes declares that from the house of prayer, this place has turned into a den of bandits, and disperses merchants and merchants.
In the center of the picture is Christ, to the left – merchants, and to the right – the apostles. In the background, two stone bas-reliefs are depicted, which refer to the expulsion of Adam and Eve from paradise and the sacrifice of Abraham. However, the key figure still remains Jesus, who punishes the traders with the right hand while simultaneously calming the apostles left. A single case of using red color in the picture isolates the Lord from other figures, even more focusing on him the viewer's attention.
El Greco borrows some elements and techniques from the works of the artists of the High Renaissance, especially Michelagelo, as well as Byzantine works of art. Nevertheless, the artist's style remains recognizable.
To emphasize the fairytale nature of the picture, the interior is illuminated by a ghostly light. Colored colors are combined with different images against the background of the general grayness, which is present in the skin colors and walls of the building.
The far-sighted and unearthly nature of the work reflects the immersion of El Greco in the deep religious environment of Toledo. He was distinguished by the vision of religion. Greco believed that the otherworldly imagery is better suited to understanding spirit and faith than naturalism and realism. Reputation and work of the artist made him a key representative of the Spanish mystical painting, having generated not a few followers.