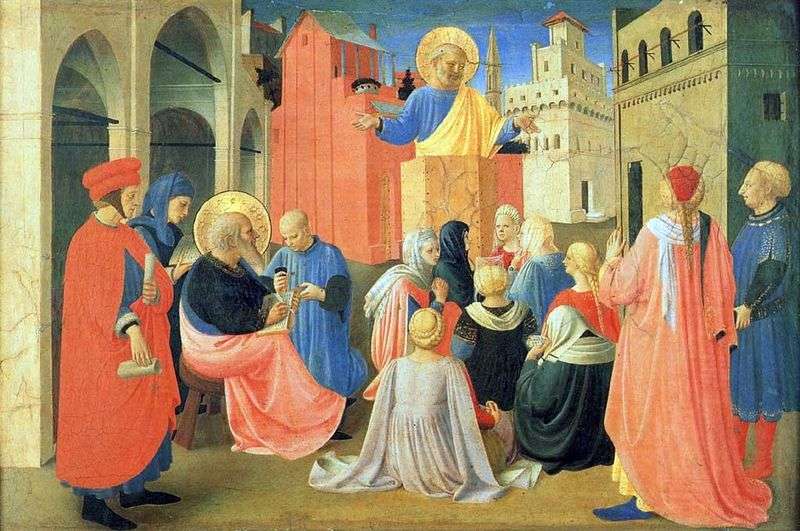 The fascination of Fra Angelico's paintings, the solitary life within the walls of the Dominican monasteries, the mystical mood of his works have laid down the heavenly image of the divine painter, who, however, does not explain the deep reasons for the formation of Angelico as a great artist. The result of the collaboration of Fra Angelico with the sculptor Lorenzo Ghiberti was the creation of a triptych of Linaiuoli, kept in the San Marco Museum in Florence, created on the basis of the Dominican monastery of the 15th century, in which Angelico lived for a long time. The triptych of Linaiwooli was ordered by the flax factory for their residence in Piazza Sant Andrea.
The contract for the execution of the altar painting, including the condition that "on the inner and outer sides of it, gold, blue paint and silver, of the most beautiful and best quality were used," was proposed by Angelico on July 2, 1433. The composition of the triptych consists of a central leaf with the image of the Madonna on the throne and two movable side wings. On their inner side are the figures of John the Baptist and John the Evangelist, on the outside – Saint Peter and Mark, below, in the limit, there are two episodes from the legends about them.
In the first of the scenes of the predella Angelico painted "St. Peter, who dictates the Gospel to St. Mark." In the center of the composition – Peter, preaching from the wooden octagonal chair, to the left – the seated Mark is depicted in the profile, who writes down his words, as well as the kneeling follower of Mark with an inkwell in his hands and two scribes holding an already completed manuscript. According to Papius of Hierapolis, the early father of the Church, quoted by Eusebius, "Mark was the interpreter of Peter." Hence the widespread opinion that he recorded the words of his Gospel under the dictation of Peter, who was called Jesus the first of the apostles, the founder of the church and the keeper of the keys of the Kingdom of Heaven. The evangelist Mark was not a disciple of Jesus.
It is believed that at that time he was still a teenager. Mark became a follower and companion of the Apostle Peter, with his works helping the apostle in spreading the gospel preaching. Many fathers of the church of the first centuries claim that the apostle Peter speaks of him in his First Epistle: "The elect, like you, the church in Babylon and Mark my son greets you."
The Holy Apostle Peter, during his stay in Italy, sent many of his disciples to preach the Gospel to different countries; including he sent St. Mark to Egypt about the year 49 AD, and appointed him Bishop of Alexandria. Here Saint Mark drew many pagans, hence his Gospel spread in Libya and the provinces of Egypt.