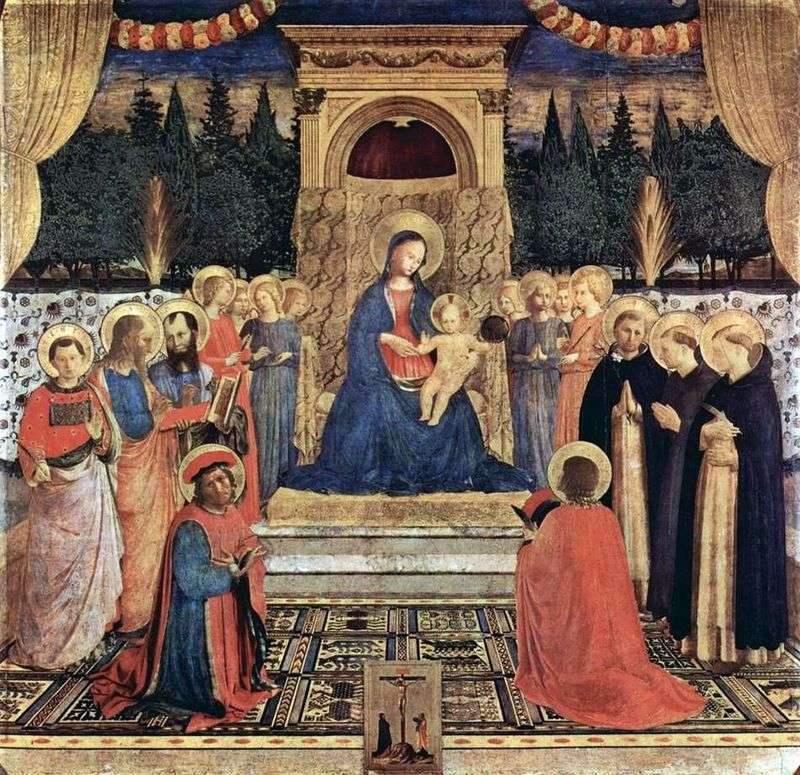 Fra Angelico is a painter who combined deeply personal religious feeling with high artistic perfection. Angelico was a monk at the Dominican monastery in Fiesole. John Ruskin, an art theorist, calls him "not so much an artist in the direct meaning of this word as an inspired saint." Already shortly after the death of Angelico, he was nicknamed "Beato", officially he was canonized in 1984. This one of the best altar images of the quattrocento was created for the main altar of the monastery church of San Marco in Florence, dedicated to the Holy Cosmas and Damian.
The central composition depicts the Madonna and Child on the throne, surrounded by angels and Saints Cosmas and Damian, Lavrenty, John the Evangelist, Mark, Dominic, Francis and the martyr Peter. Noting the rare beauty of Angelico's work, Vasari writes: "The Madonna, with its simplicity, evokes a feeling of prayerful reverence among the viewer… It's impossible to imagine that one day one will see something created with great skill." The skill in depicting space is clearly expressed in this work by Fra Angelico; a clear sense of depth is created by the already promising contraction of the pattern of the magnificent Anatolian carpet. This work is one of the first altars taking into account the laws of perspective.
Unusually, the fact that the architectural frame, intended for the altar, was created simultaneously with painting. As a result, the picture or rather the ensemble of compositions has become a truly innovative work. The Madonna on the throne rises in the very center of space above a group of characters. Cypresses, palms and garlands of roses resemble passages from the Bible, in which the Virgin Mary is compared with the Lebanese cedar, cypress from Mount Zion, palm and Jericho rose. St. Mark holds the Gospel open on the page, which describes how Jesus taught in the synagogue.
The kneeling figure of Saint Cosmas – perhaps the portrait of Cosimo de 'Medici, and of Saint Damian – the portrait of the deceased in September 1440 by Lorenzo de' Medici. All eight saints were considered patrons of Cosimo de 'Medici and his family. In 1434, the return of Cosimo to Florence from exile opened a new chapter in the history of the Dominican observatories in Fiesole. Cosimo de 'Medici began to equip the San Marco Monastery in Florence, which now passed from the hands of the Order of the Silvestrians to Dominicans.
In 1437 the architect Michelozzo began to renovate the rather old monastery; Meanwhile, Fra Angelico was commissioned to paint frescoes of the lunettes of the arcade of the monastery courtyard, the chapel hall, the refectory, the walls of the corridors and the 45 cells occupied by the monks. This grandiose work he carried out until 1450.