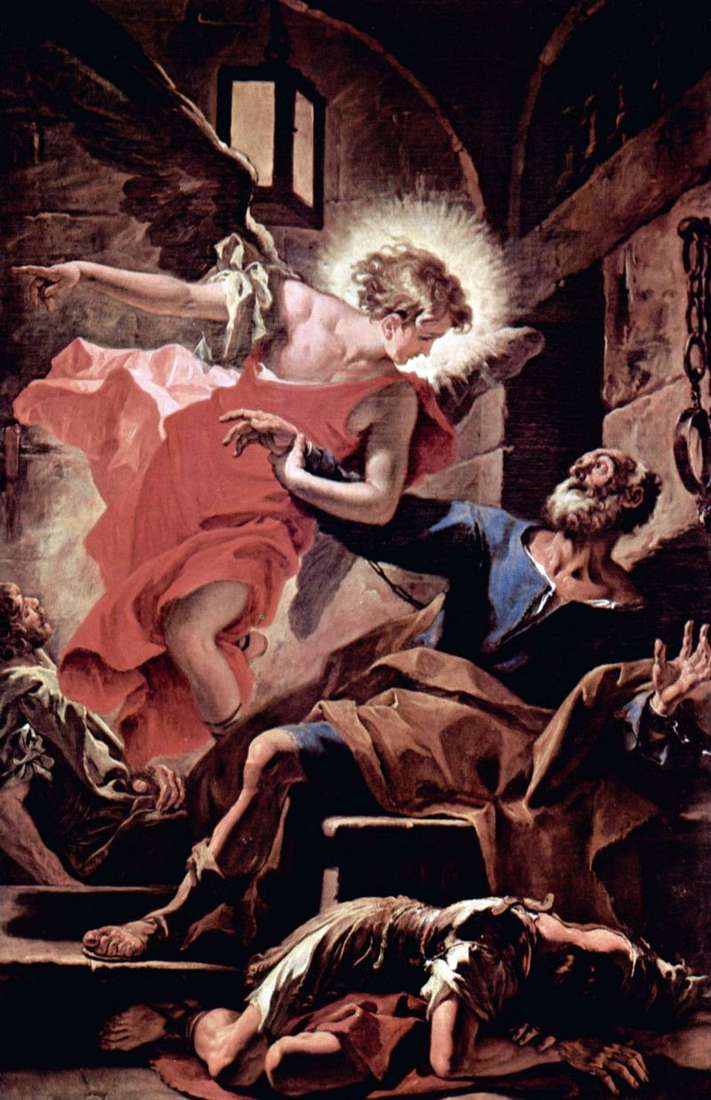 Painting by Italian artist Sebastian Ricci "The release of the Apostle Peter by the angel". The size of the painting is 300 x 200 cm, oil on canvas. Peter, in the New Testament is one of the twelve apostles. The original name is Simon. Called by Jesus Christ to the apostles together with his brother Andrew and named Kifa, Peter receives a mission to become the "foundation" of the church of Christ, and the keys of the heavenly kingdom are handed to him.
Betrayed to Christ, Peter, after the last supper, renounces him three times. After the death of Christ, Peter is engaged in preaching.
In Rome, he was captured and executed along with Paul. In Christian iconography, the face of the Apostle Peter, both in the eastern and in the western church, is assigned the type of a gray-haired old man, with curly hair and a beard, more or less bald.
On Catholic icons, the Apostle Peter is most often depicted with two keys, which, according to the tradition of the Roman Catholic Church, are handed to him by Jesus Christ; the transfer of these keys, which symbolize the power of the church to knit and resolve sins, depicted Perugino on a fresco in the Sistine Chapel and Raphael on one of his cardboards.
Sometimes the apostle Peter is depicted with a fish in his hand – a hint of his fishing craft. At the end of the first decade of the 18th century, the color of Sebastiano Ricci painting becomes more and more light, airy and transparent. Raised in the Venetian tradition, the painter Sebastiano Ricci played a leading role in the formation of the common European pictorial language of the early eighteenth century.