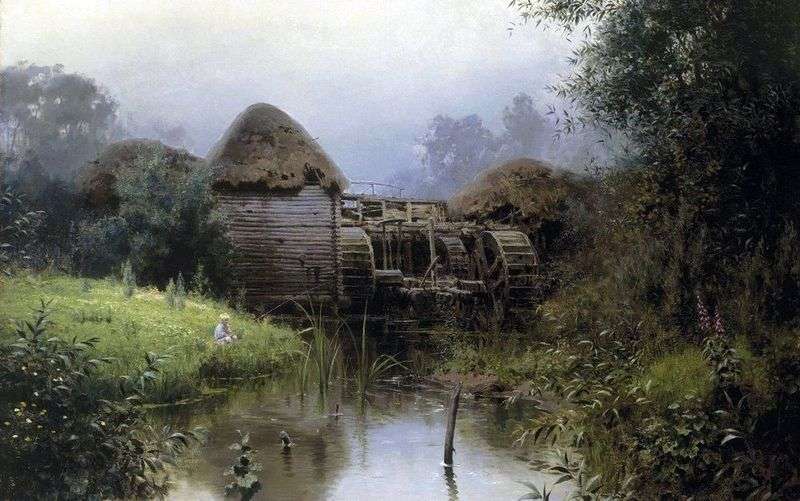 Landscapes created by the brush of a talented painter V. Polenov, do not leave indifferent and sophisticated art lovers and ordinary viewers. An honorable place among his works is taken by the painting "The Old Mill".
In the center of the canvas – a dilapidated abandoned building – a wooden mill. Once the work was in full swing here, but now the big water wheels have stopped their turn. Thick logs blackened, boards of old age and dampness rotted, and the thatched roof was leaking. The mill, bushes and tall grass surrounded the mill, returning this once crowded corner to the realm of nature.
Lost in thought, there is a tired mill, all covered with a hazy mist. Long since in Russia, people believed that evil forces live here, so the mills have always been covered with the halo of mysticism. V. Polenov accurately conveys this mood in his landscape – an abandoned building, a languid river, wild vegetation and a predawn mist of fog – what else is needed to create a fantastic and fascinating image?
With extraordinary love, the artist accurately and amazingly realistic draws all the details of the picture. Every blade of grass, every leaf on misty trees, their shadows on the ground and reflections in a calm, as if frozen, river. Everything here seems so alive that I want to touch the canvas and feel the morning coolness of the water, the roughness of the leaves and the breath of the breeze.
Fascinated by the mysterious beauty of nature, the viewer does not immediately notice the person here. This is a fair-haired boy, crouching on the bank of the river with a fishing rod in his hands. The only person who comes to visit an old acquaintance – the mill that once fed them and forgotten today.