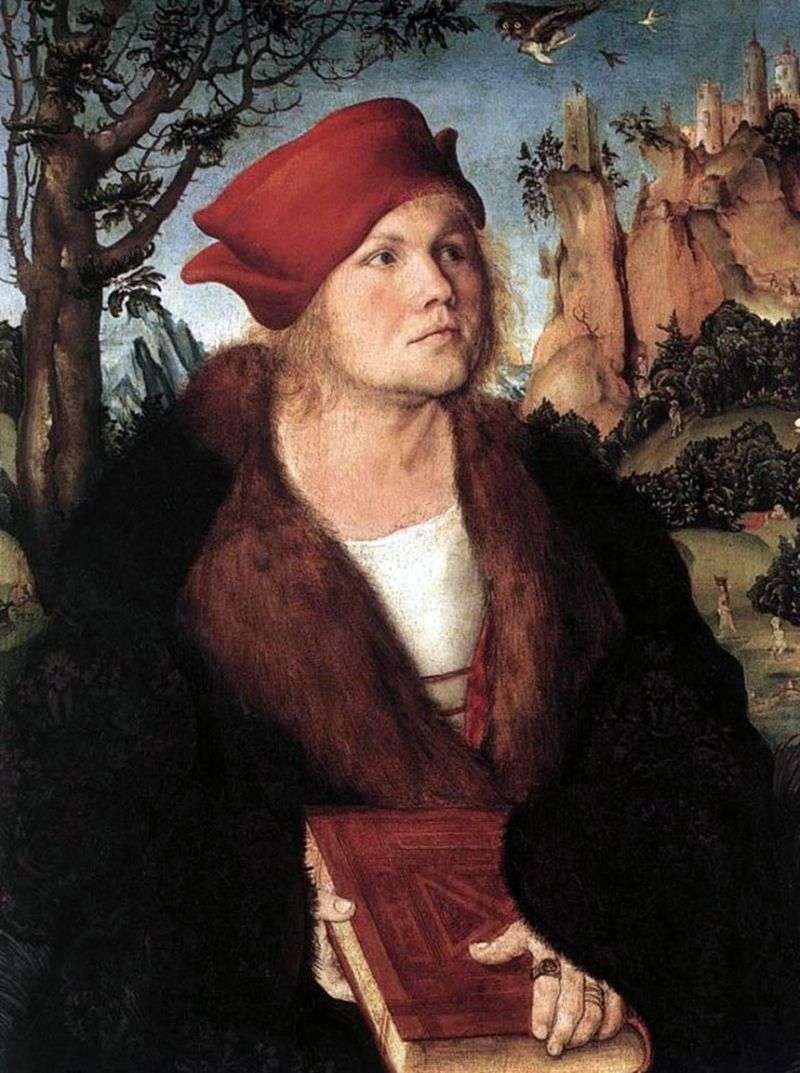 The portrait of Ph. D. Johann Cuspinian is written by Lucas Cranach the Elder in 1503. The portrait refers to the early period of the artist's work. Is a pair picture to the portrait of the wife of Dr. Anna Cuspinian.
Throughout his career, the artist Lucas Cranach the Elder shows a heightened interest in the man of his era: he is especially attracted to the portrait genre, he is interested in the way of life of various classes, he pays special attention to costume and details of everyday life. In the early portrait of the scientist Johann Cuspinian, the figure of a man is placed in a somewhat naive fairytale environment, but the face is remarkable for its remarkable vividness of expression and attractiveness.
The portrait of Johann Cuspinian was created by Lucas Cranach after a tour of Germany, which ended in Vienna. In the university city of Vienna, the artist spent about five years writing several portraits of professors and members of the academic council. The portrait was painted by Lucas Cranach the Elder to the wedding of a young man, a pair of him was a portrait of the future wife of Anna. Judging by the portrait of the artist, in the guise of Cuspiniana, the most bizarre image was combined dreaminess and coarse strength, softness and thoroughness.
The peculiar character of Johann Cuspinian is emphasized by the landscape that opens behind his broad shoulders. Like the fear that the audience will not be able to determine the character portrayed by his face, the artist Lucas Cranach the Elder wrote a half-withered tree, a planet called Saturn and an owl carrying prey in his paws. On these signs, the artist's contemporaries, familiar with the science of symbols, could easily determine that Johann Cuspiniana is distinguished by the temperament of the melancholic.