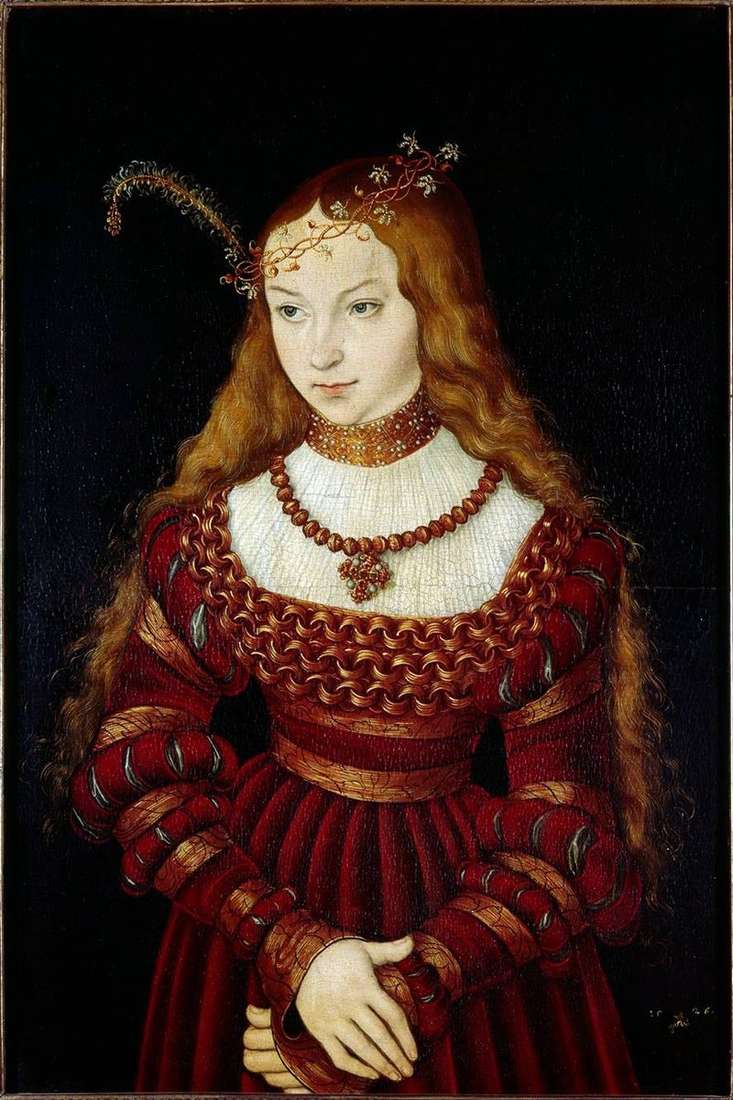 Portrait of Princess Sibylla of Cleves or otherwise the painting "Princess Sibylla of Cleves in the attire of the bride" painter Lucas Cranach wrote in 1526. Is a pair of paintings to the portrait of the groom Johann Friedrich of Saxony. The size of the portrait is 55 x 36 cm, wood, oil. Johann Friedrich was the son of the brother of Elector Frederick the Wise, Johann Constant. He was in the care of Lucas Cranach from a small age.
When Johann Friedrich matured, he was chosen for his future wife – fourteen-year-old Sybil of Cleves, daughter of Duke Johann III of the Peacemaker. Lucas Cranach went with the embassy to the bride's father and painted her portrait. Low growth, graceful Sibylla and full good-natured Johann Friedrich were a kind of a couple. After the death of his uncle Frederick the Wise, the young man became Elector of Saxony and earned the nickname Magnanimous. Princess, afterwards Elector Sybil became the muse of Cranach.
The artist wrote it in the form of Salome, Judith, Diana and the goddess of love of Venus. Painter Cranach invented for Sibylla luxurious clothes and freakish outfits, which became models for all the noble ladies of Saxony. A thin red-haired girl with dark slanted eyes became a model of beauty, and for many years German artists and poets of Saxony glorified her beauty.