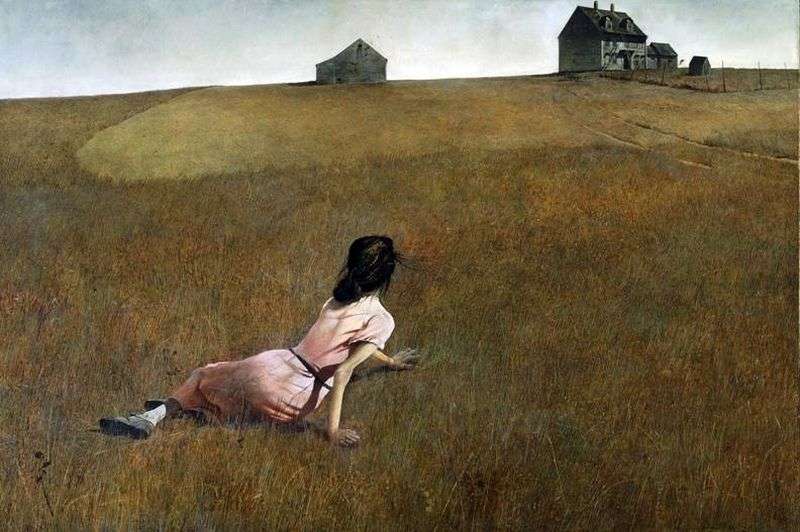 Christina's World – picture of Andrew Wyeth, the American realist painter, one of the most prominent representatives of the fine arts of the XX century the United States. 1948. The style of the artist is also referred to as magical realism.
The woman depicted in the painting – it is Christine Olson. She suffered from polio, a disease that has paralyzed the lower part of her body. Wyeth decided to write this now, when I saw from the window of his house, this woman was crawling across the field. After a childhood illness woman could not walk, and his whole life was crawling around the house and estate.
She certainly could move around in a wheelchair, but would then Christina had always ask relatives to carry it. And she did not want to bother them. She wanted to, even so, but to preserve the freedom of movement, and therefore a certain liberty. The artist admired the dedication and spirit of this woman.
At Wyeth he had a summer house in the locality, and he was a friend of Olson, who, like her younger brother, he is often portrayed in his paintings during the period from 1940 to 1968. Christine Olson was 55 years old when Wyeth painted this picture.
The house shown in the picture, known as a "home Olson", located in the state of Maine, in the town of Cushing. It is open to the public Farnsvortskim Museum of Art. He is listed as a National Historic Landmark and renovated in accordance with the type shown in the picture.
The original painting has received scant critical acclaim and has remained little known until then, until it was acquired by the New York Museum of Modern Art. After exposure to the ISI became popular paintings to grow rapidly, and today the picture is considered a model of modern American art.