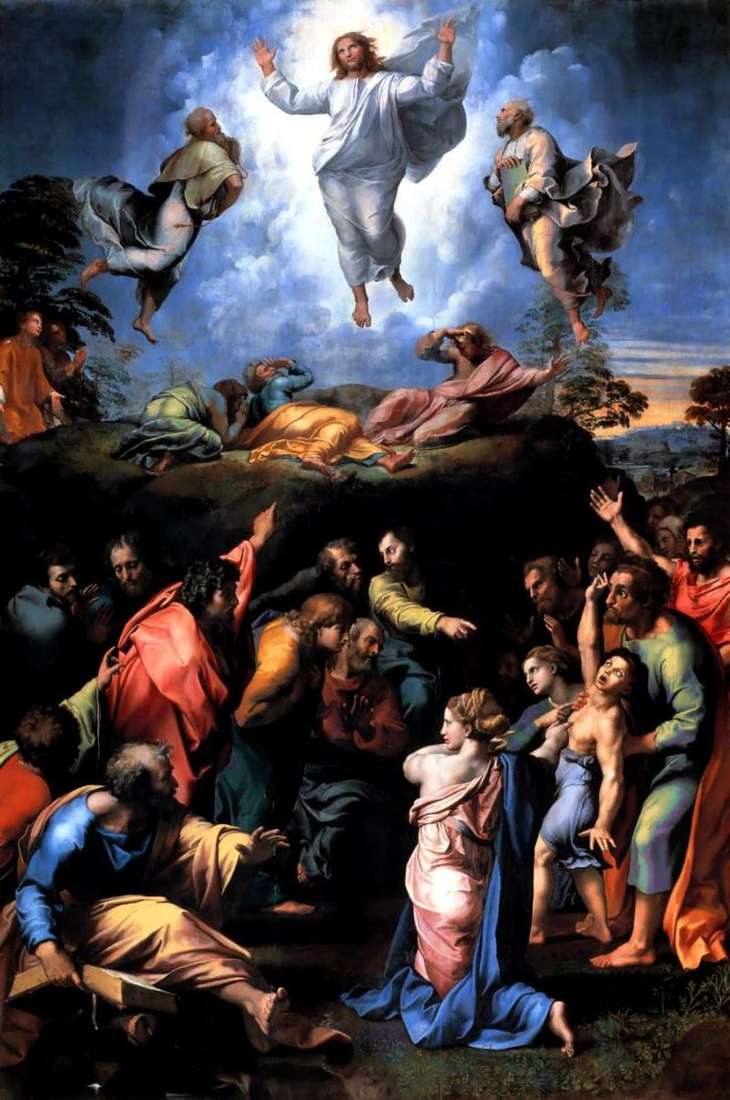 Raphael – known painter of the Renaissance, who wrote for his short 37 years, a lot of famous paintings throughout the world. The greatest glory brought Raphael painting "Transfiguration of Christ" or "The Transfiguration of Christ" in a different interpretation.
A huge painting was commissioned for the Catholic Cathedral in Narbonne, by Cardinal Giulio de 'Medici in 1517.
Starting to work on the painting, the artist painted himself painting parallel to the cardinal. For his painting the artist used a well-known biblical story described in the Gospels, which tells us that Christ wanted to show his disciples his true form. As the Scripture says Jesus took with him three Apostles Peter, James, and Iiakima, and led them up a high mountain where he was transfigured before them, represented in the form of light, surrounded by a divine halo. Then came the voice of God, who confirmed the apostles that Jesus was his true and only son.
Descending from the mountain, the apostles and Jesus met a crowd of people who accompanied his father and his son, possessed by the devil to turn to Christ to ask for his healing.
And here begins the story of Raphael, which tells about this moment.
In the foreground are placed apostles, who recline in different positions in anticipation of the descent of Christ. Jesus himself floating in a circle of light on the rest of the people, it is weightless and beautiful. People stretch out her arms to him, but the old man and the boy were waiting for healing. Also, the artist depicted kneeling woman who, together with all expect a miracle. These people point to Christ, their faces full of thrill. He comes and heals the child, banishing evil spirits.
The upper part of the picture is illuminated by divine light that comes from Christ, the bottom is obscured.
According to reports the top picture painted by the artist himself, and the lower part was finishing his students, as Raphael died tragically in 1520. But his immortal canvas can be considered a role model for contemporary artists.