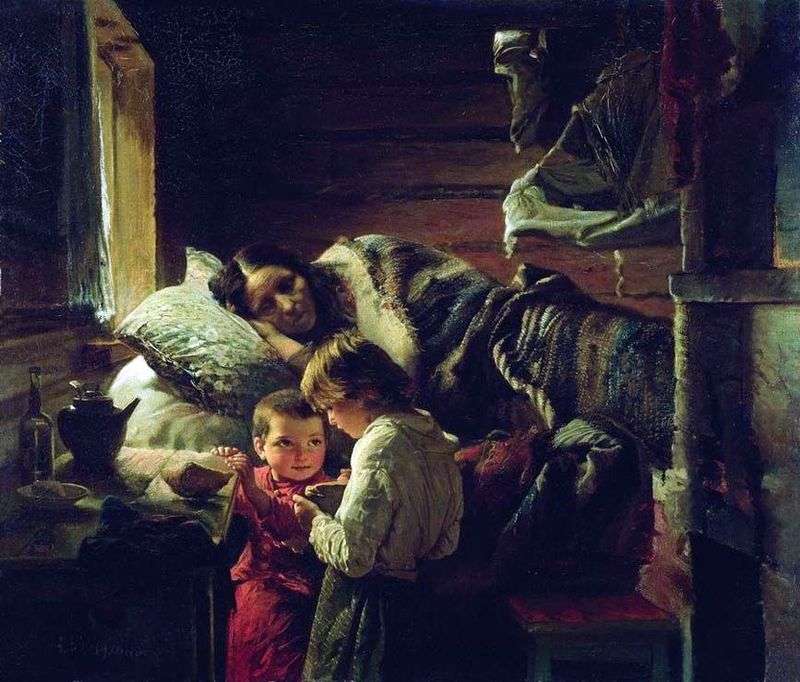 Dark peasant hut. In the corner there is a couch, on which lies a sick mother, covered with something resembling a blanket. In the foreground on the left there is a table with some dishes on it and a breadcrumb. At the table are two children: a boy of three to four years and a girl of five years. She holds in her hands another scrap of bread, evidently, their portion.
The boy looks at his sister with hungry, begging eyes, and she gently presses the bread to herself and does not know what to do. My brother already ate his portion of bread, but again he wants to eat, and until the night is still far away and
they have no other food. If they eat now, then what will they eat later? There is bread that is on the table, too, it is impossible – it is for a sick mother.
Exhausted mother will not worry about her and eat her portion. But the girl is already big enough to understand that this can not be done, otherwise the mother will never recover. And, apparently, she will have to share her bread with her brother, and there as God will give… The meager atmosphere of the hut, the poor clothes of children, as well as the dark color of the picture create a mood of gloomy despair.