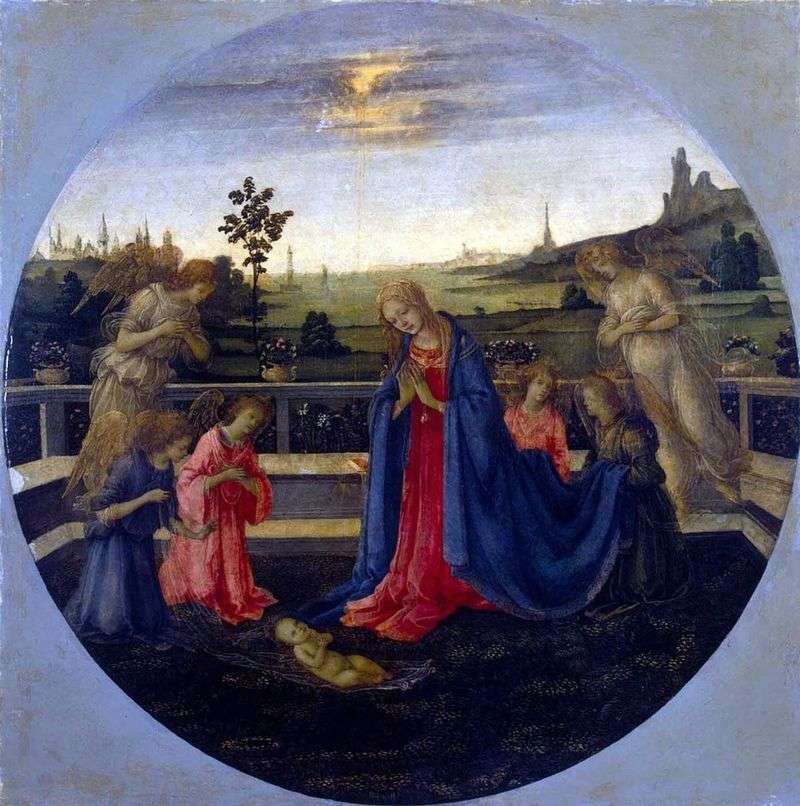 Hermitage Tondo with a Scene Adoration of the Infant Christ "is an excellent work by Filippino Lippi, a typical example of the art of the medical school. The foreground group consists of figures of the Madonna and angels.
The elongated proportions, graceful forms sharply distinguish them from the full-blooded, earthly "images in the art of the previous time. The impression of unreality of the event enhances the image of two angels hovering above the earth, painted with light strokes of white and gold, which makes them see frail for kvatrocento specificity of the situation and objects: stone balustrade, decorated with flowerpots, carefully drawn grass and flowers, the smallest details of clothing.
The landscape conveyed quite realistically contrasts with the conventionality of the first composition. Lonely standing dark wood helps to combine foreground and background, leading the viewer into the distance and emphasizing the depth of space. Objects gradually lose their clarity of contours and certainty of color, they are, as it were, horrified by a light haze near the horizon. Filippino used here aerial perspective, which was later developed practically and theoretically substantiated by Leonardo da Vinci.
It is known that Prince V. Trubetskoy bought the painting in Arezzo and presented it to Senator D. Mordvinov, who bequeathed Tondo A. Muraviev. At the last one, Adoration of the Infant Christ, was acquired by Count P. Stroganov. From his St. Petersburg collection, in accordance with the owner's will, the painting entered the Hermitage in 1911.