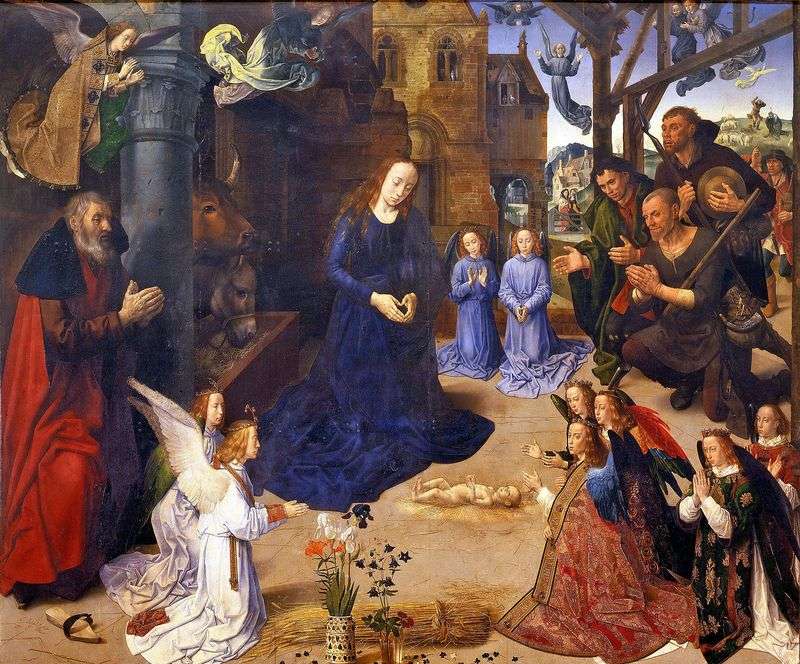 The master of the Northern Renaissance, Hugo van der Gus, was able to reflect in his works the world around him with all its details and at the same time look at the depicted from the height that was inherent in the Renaissance.
The artist was genuinely interested in the inner world of the people he painted, and the quality described was Renaissance in nature. All this is especially evident in the presented triptych. The Altar is dedicated to the Adoration of the Shepherds to the Infant Christ, the donors – Tommaso Portinari, his wife Maria Baronchelli, their children and saints are depicted on the
side doors, and the Annunciation is represented on the back of the wings. Italian Tommaso Portinari, who headed the representation of the Medici Bank in the Belgian city of Bruges, ordered this altar for the church of Sant Egidio in Florence. The main part of the altar represents a vast space, in the center of which lies the Infant Christ, looking especially small in comparison with the figures of Our Lady, Joseph and the shepherds.
The Italian master in this case would paint a plump and large child to emphasize his unusual origins, but the Dutch artist is faithful to the realities of life, therefore in the altar image of Van der Gus, the newborn baby is small, he has the vague look of a man who was barely born and the weak movements of pens and legs. Having painted God who came to the world in the form of a tiny, touching child, the artist set a special mood for the work – tenderness. This feeling is expressed in him subtly, since no one here is touched openly: The Mother of God is immersed in the contemplation of the Son, the angels begin to pray in earnest, on the faces of other characters – deep thoughtfulness and seriousness.
But by the way the hair of Joseph is swept up, which has not had time to smooth them off, through his carefully folded hands in prayer, by the impulse in which the shepherds bow before the Infant, a joyful shock is felt, replaced by a touch of emotion in the souls of all these people. And only one of the shepherds, with a rudely vulgar face, who did not have time to kneel and fold his hands in prayer, looks at what is happening, literally opening his mouth in amazement. The artist is attentive to all these details, as they create the mood of the picture, like the flowers in the vase in the foreground, partially crumbling, and the embroidered robes of the angels on the right, and the beautiful, light-flooded landscape in the background. When in 1483 the altar through the sea was brought to Florence, he struck those who saw it and exerted a great influence on Italian painting.