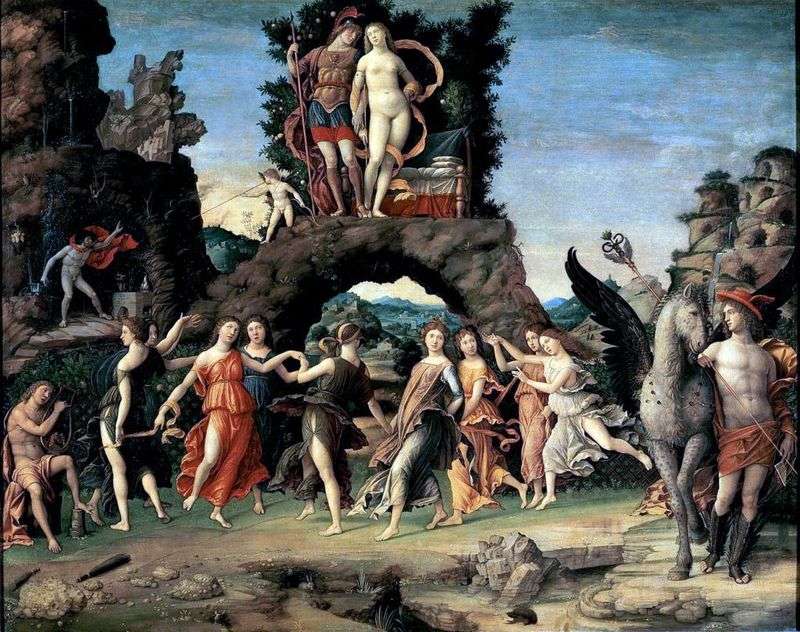 Andrea Mantegna's love for the art of antiquity was ideally suited to the tastes and scholarship of Isabella D. Este. When she married, her grandfather's grandfather Lodoviko Gonzaga, at whose time the artist worked, made an order to decorate one of the rooms of the Mantuan Palace, which served as a place storage of treasures. Now this room was intended for Isabella's office. Her only wish was to choose an ancient story with a symbolic meaning.
Painting on mythological scenes at that time very rarely became the subject of the picture embodiment. The more interesting for the artist was this order, which allowed him to turn to such beloved ancient characters. The theme of Mars and Venus, chosen by the artist, really liked Isabella.
The meeting of heroes takes place near a bed raised on a stone pedestal against the background of an open landscape; the images of Mercury and Pegasus hint at Isabella's wedding day in February 1490, when the heavenly bodies of the same name, Mars and Venus, were likely to symbolize the bride and groom. Mars, as we know, is the god of war of the Roman pantheon, and the bridegroom was a warrior. Well, the bride, of course, was supposed to embody the love and beauty, whose goddess was Venus. To this we can add that Isabella was the recognized beauty of her time, many artists wrote her portraits.
The participants in the action also include Apollo, who plays the lyre, dance of the muses dancing merrily to his music, Cupid and rejected Pluto in his subterranean kingdom. The whole picture is imbued with a sense of the carefree joy of being and a somewhat frivolous attitude to life. She entered the Louvre in 1801.