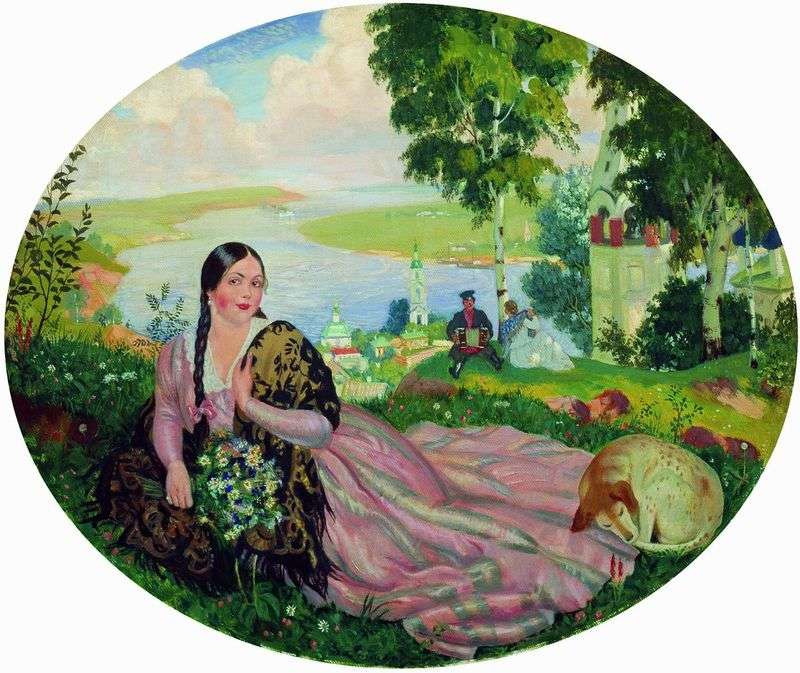 The same Kustodiyev type of woman repeats itself: a sweet, tender maiden-beauty, about whom in Russia they were said to be "written," "sugar". The face is full of the same sweet charm that the heroines of the Russian epos, folk songs and fairy tales are endowed with: a light blush, as they say, blood and milk, high eyebrow arches, a pointed nose, a mouth with a cherry, a taut braid spread over her chest… She is alive, real and insanely attractive, alluring.
She was seated on a hillock among daisies and dandelions, and behind her, under the mountain, such a wide Volga expanse unfolds, such an abundance of churches that it takes her breath away.
Kustodiyev merges here this earthly, beautiful girl and this nature, this Volga expanse into a single inseparable whole. The girl is the highest, poetic symbol of this land, of all of Russia.
In a curious way, the picture "Girl on the Volga" turned out to be far from Russia – in Japan.