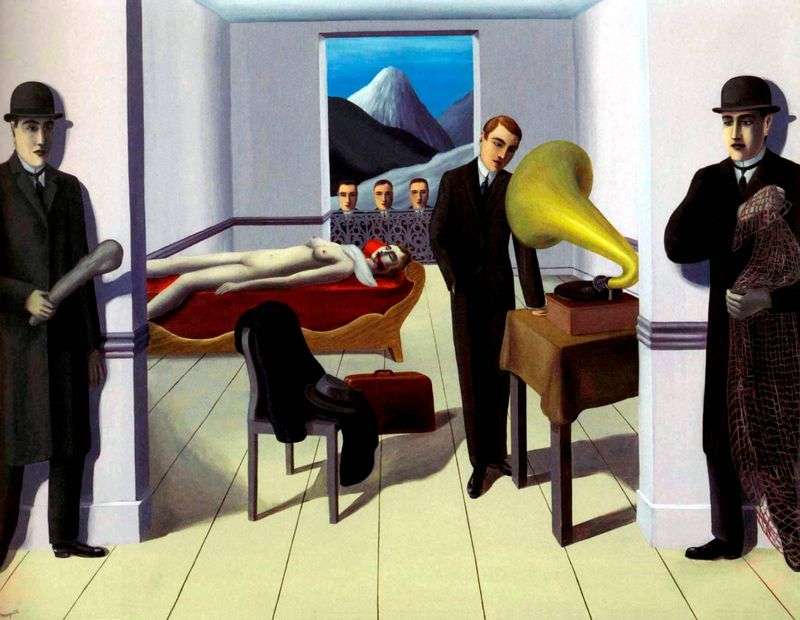 Belgian surrealist Rene Magritte in his paintings was able to combine ordinary household objects with completely incompatible paradoxical phenomena at the level of psychology. And he put into each his work a philosophical meaning, which is not immediately amenable to decoding. The picture "The threat of murder" was written in the period of the artist's work in many magazines for which he created his unique drawings.
This time art critics call the time of the emergence of the "true Magritte", when in his work the main techniques, ideas and style of the artist were developed. "The threat of murder" – this is a picture full of mysteries. It can be said that this is a whole comedy detective story. Several actors in the picture can be interpreted in different ways.
In the central part of the picture is the corpse of the victim of the murder with a severed head, raped because there is no clothes, beaten, as indicated by bleeding from the nose and previously strangled with a towel, which the killer left on the murdered neck. Very cruel murder. But who made it? Magritte presents us with a chance to solve this riddle. On the way into the room, alleged killers are hiding behind the walls. Although the club and the network in the hands of these characters are more likely the instruments of abduction than murder. Not far from the victim is the investigator, and maybe this is not the investigator at all, but the killer himself, who did not manage to leave the scene of the incident. Three witnesses or hiding murderers are hiding behind the window.
The faceless actor in the picture is a gramophone with a record on which the threat is also possibly recorded. All actors, potential "suspects" on one person. This is the so-called "Magritte gentleman". This absurdity is the main task of the artist – to discourage the viewer. In addition, the artist plays with time, mixing the past, present and future in his stage setting. These times seem to go into the perspective, which emphasizes the sinister trumpet of the gramophone. And a small touch of romance – the action takes place in the mountains, seen outside the window.
Mostly gray color of the picture emphasizes the plot, its absurdity and heavy perception of the work. But this is the genius of Magritte – to create a riddle, embarrass the viewer and make him think.