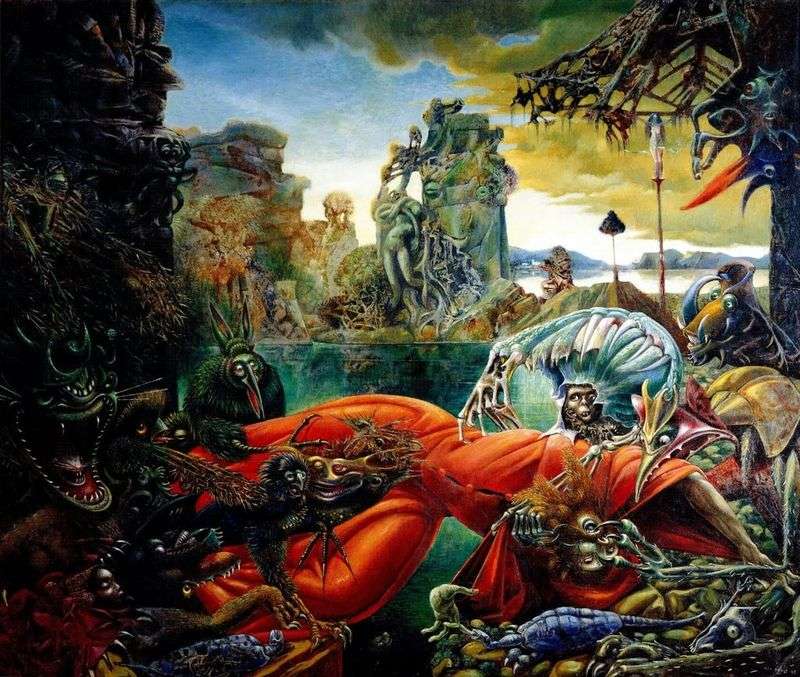 In 1929, Andre Breton called Ernst an artist who "has the most illusory imagination in the world." These words were uttered during a lecture on the novel "The Stagnant Woman" by Ernst, but they can be fully attributed to the painting "The Temptation of Saint Anthony", which won the contest for the right to be shown in the film, based on the novel by Guy de Maupassant "Dear friend".
In the catalog published, Ernst wrote about his painting: "Plunging into darkness, the weakening mind Antonia screams for help, but his cry of horror only echoes from the calm surface of the water and drowns out the laughter of the monsters generated by the saint's imagination." Ernst depicts on his canvas eerie monsters with claws and fangs, alive devouring Saint Anthony. This picture can be considered the culmination of a series of works created by Ernst in the 1930s, when the artist turned to the image of dense forests and monsters, wanting to convey the alarm that had engulfed him.
Ernst writes his monsters in great detail, in full accordance with the traditions of Northern European painting. His painting resembles the paintings of the artist of the 15th century Matthias Grunewald, although in St. Ernst St. Anthony is depicted in a much less majestic pose than was the case with old masters.